To add new images to your galleries, edit or add a gallery from Photo Gallery > Add Galleries/Images page. Photo Gallery plugin provides 4 methods of uploading and importing images:
uploading them through Photo Gallery File Uploader,
importing from WordPress Media Library,
embedding media images and videos,
bulk embedding from Instagram.
Let's discuss each of these options and help you configure the images in your first gallery.
Using Photo Gallery File Uploader
The plugin comes with an advanced File Uploader, which you can use to upload and manage images of your galleries. To start using File Uploader, press Add Images button in the gallery editing toolbox.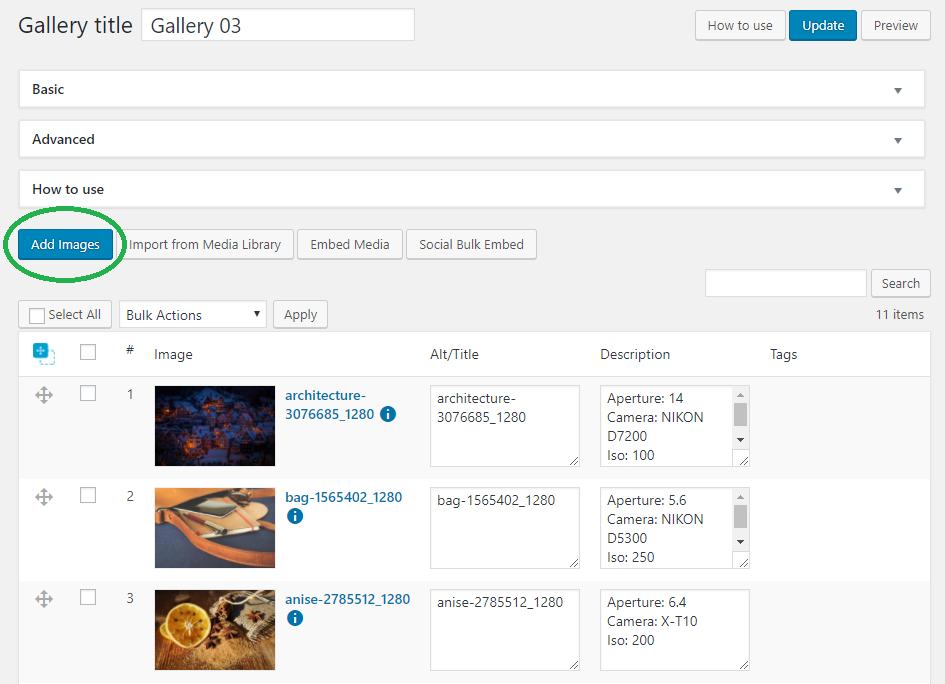 A popup will appear with various settings. This is a user-friendly and powerful tool, which lets you add or delete photos, organize them by separating into different folders, and much more. Begin uploading new images by clicking on Upload Files button.
The following two options will appear on the uploader screen:
Thumbnail Maximum Dimensions. This option lets you define the maximum width and height of image thumbnail dimensions. The recommended size is 300x300 pixels.
Image Maximum Dimensions. With this setting, you can set the maximum width and height of gallery images. For the best loading speed and resolution, we recommend you to set dimensions larger than 1200x1200 pixels, but smaller than 2000x2000.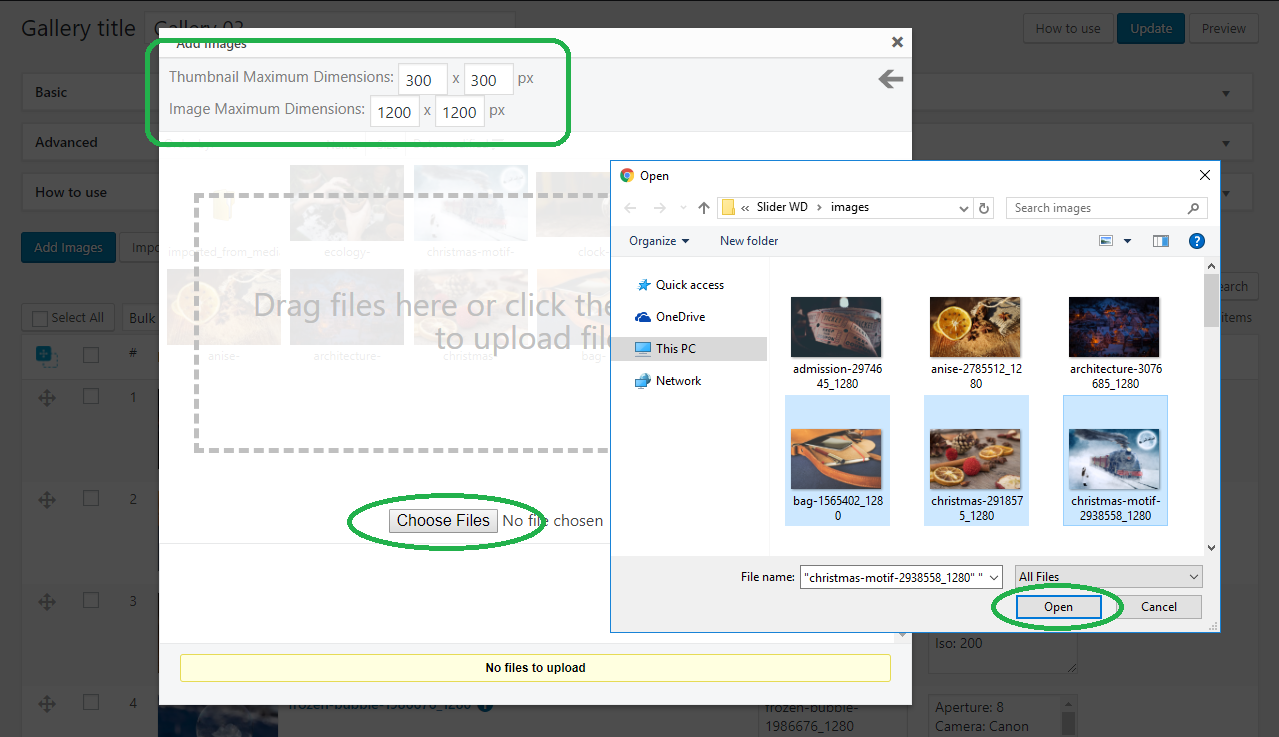 After configuring these two options, click on Choose Files button. This lets you select and upload photos from your computer. Choose multiple images by pressing Shift or Control keys and selecting the items. As you finish choosing images, click Open. The upload will start automatically.
Alternatively, you are able to upload images by dragging them from your PC and dropping into Photo Gallery File Uploader.
When the upload is completed, the selected images will appear on Photo Gallery File Manager screen. Choose the photos you wish to add to your gallery, then press Add Selected Images to Gallery. Mark all images by clicking on Select All button, or alternatively, press and hold Shift or Control keys to select multiple items.
File Uploader Settings
Photo Gallery's File Uploader is equipped with a number of powerful settings, which allow you to modify and manage your gallery images. Use the buttons at the top of the File Uploader to organize your gallery images. The following are the functions these buttons let you apply:
Up. Navigate to a parent directory in File Uploader by clicking this button.
Make a directory. Create a new folder in File Uploader using this button, and thus achieve an organized dashboard with your gallery images.
Rename item. Select an image and click this button to set a new title for it.
Copy. Mark a single or multiple items in File Uploader, and create copies of them by pressing this button.
Cut. Use this option to move single or multiple images from one directory to another in File Uploader.
Paste. With this button, you can paste the copied or cut images into another directory in File Uploader.
Remove. Remove unnecessary images and folders from File Uploader by selecting them and clicking this button.
Search. Search images or folders in Photo Gallery's File Uploader using this search bar.
Thumbnails view. By clicking this button, you can switch to Thumbnails display of File Uploader.
List view. Display the images and directories in File Manager with list view by clicking this button.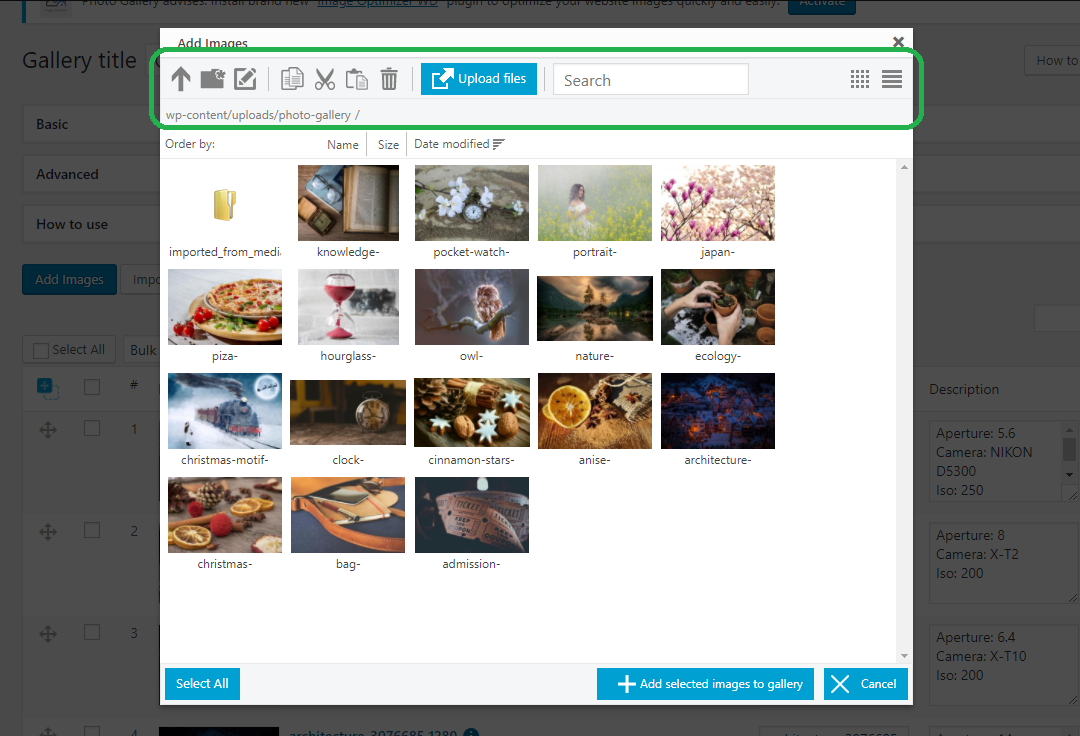 Importing Images from WordPress Media Library
Photo Gallery plugin also lets you import images of WordPress Media Library into your galleries. To begin adding photos with this method, click on Import from Media Library button. You will access WordPress Media Library popup, which allows you to:
import existing media to Photo Gallery,
upload new items and add them to your gallery.
Use this toolbox to upload images you need to import or select the items that are already in WordPress Media Library. To choose a single item, simply click on it once. You can mark multiple items by pressing and holding Shift or Control keys, then selecting the images. Afterward, press Insert to add the selected images to your gallery.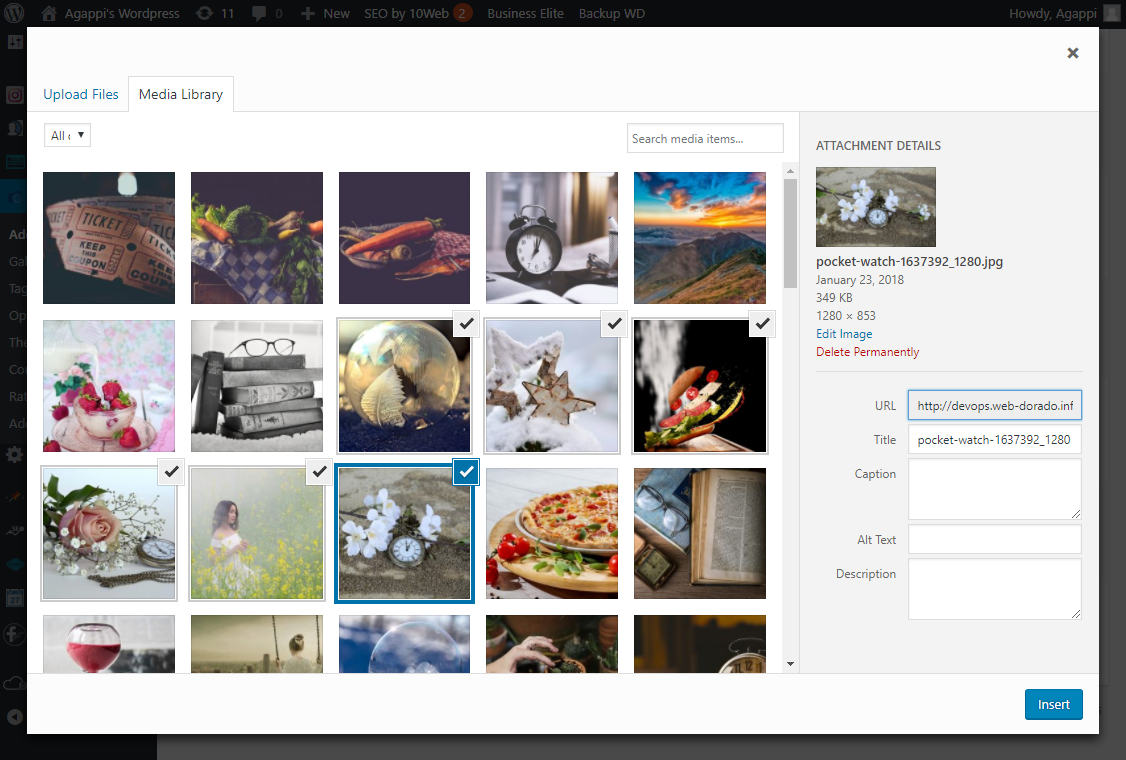 After adding images, click on Publish or Update buttons to save the changes in your galleries.