Premium version of WordPress Form Maker plugin comes with built-in PayPal integration. You can configure a payment form quickly and easily by adding Payment Fields to it. Build compact shopping forms, hotel reservation, online application or ticket sales forms with this feature.
Note: You need to set up Form Options > Payment Options of your form in order to receive payments on your account. Follow the steps described in this section to do that.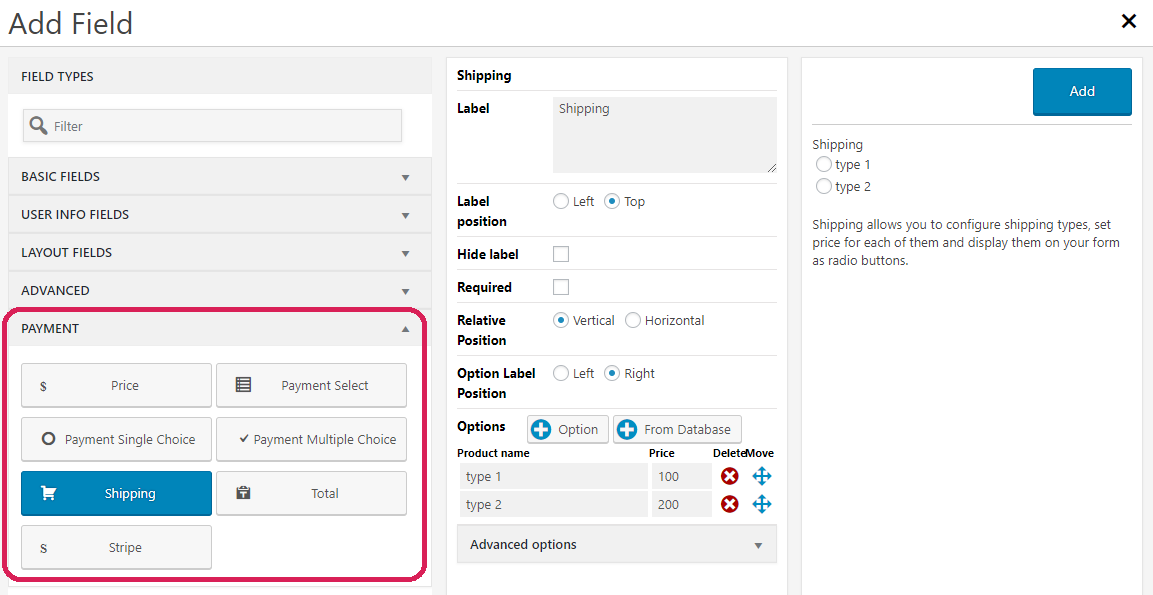 Price
Allow users to set a payment amount of their choice with Price field.
Range. Assigns minimum and maximum limits on the value of Price field.
Readonly. Mark this option as checked, in case you do not want to allow users to edit the value of Price. This is handy, in case you need to write fixed value for the field.
Hide payment currency. Activate this setting, in case you want to hide the currency symbol next to Price input.
Payment Select / Payment Single Choice / Payment Multiple Choice
Use these fields to place lists of products, which the submitter can choose to buy through your form. Add or edit list items using Options setting of the fields.
Shipping
This field allows you to configure shipping types and set price for each of them.
Customize Payment Select, Payment Single Choice, Payment Multiple Choice and Shipping fields with the following options:
Quantity property (Advanced Options). Enable this option to allow the submitter to choose a quantity for items they purchase.
Product Properties. You can add custom or built-in properties to your products, such as Color, T-Shirt Size or Print Size. Click the Plus (+) icon to open the toolbox of properties to start the setup.
Similar to Single and Multiple Choice of Basic fields, Payment Single and Payment Multiple have the following settings:
Label position. Select the position of the field label, Left or Top.
Relative Position. Set the relative position of radio button/checkbox options. They can appear next to each other Vertically or Horizontally.
Option Label Position. Choose the label position of checkbox/radio button labels, setting it to Left or Right.
Total
This is a calculation field, which sums up the values of Payment fields. You can add Total to your form to show the summary of the payment before users press Submit. In the advanced settings you can also hide the currency from this field.
Stripe
Before adding Stripe field, make sure to select it as the form's payment method. You can configure Stripe options from the Settings > Payment Options section of your form.
When you add this element, the set of fields activated on the Payment Options page will be placed on your form. Here you can set a label, configure it's position and size on the form. Also, the total will be calculated and visible on the published form.
Note: These fields are only visible on the published form.


Important! Stripe field and its settings will become active, after the Stripe Integration add-on is installed and activated on your website.