WordPress Form Maker plugin lets you publish your forms on your WordPress website with the following four stunning form types:
Embedded,
Popup,
Topbar,
Scrollbox,
After you are ready to publish the form you created, click the Appearance tab to navigate to these settings. You can choose the type to publish your form with, as well as choose/edit its theme.
Embedded form type generates a shortcode of your form, which you can add to the content of WordPress pages or posts. Whereas Popup, Topbar and Scrollbox let you publish the form on many pages, posts, or categories at once. The last three form types can be configured with the settings described below.
Frequency
This option lets you disable the form for a specified period (days) for the visitors, who have closed or submitted the form. It will appear again after this period expires. Set the value to 0, in case you wish to always show the form.
Always show for administrator
If this option is enabled, website administrators will always see the form. This is quite useful when you are still testing your form.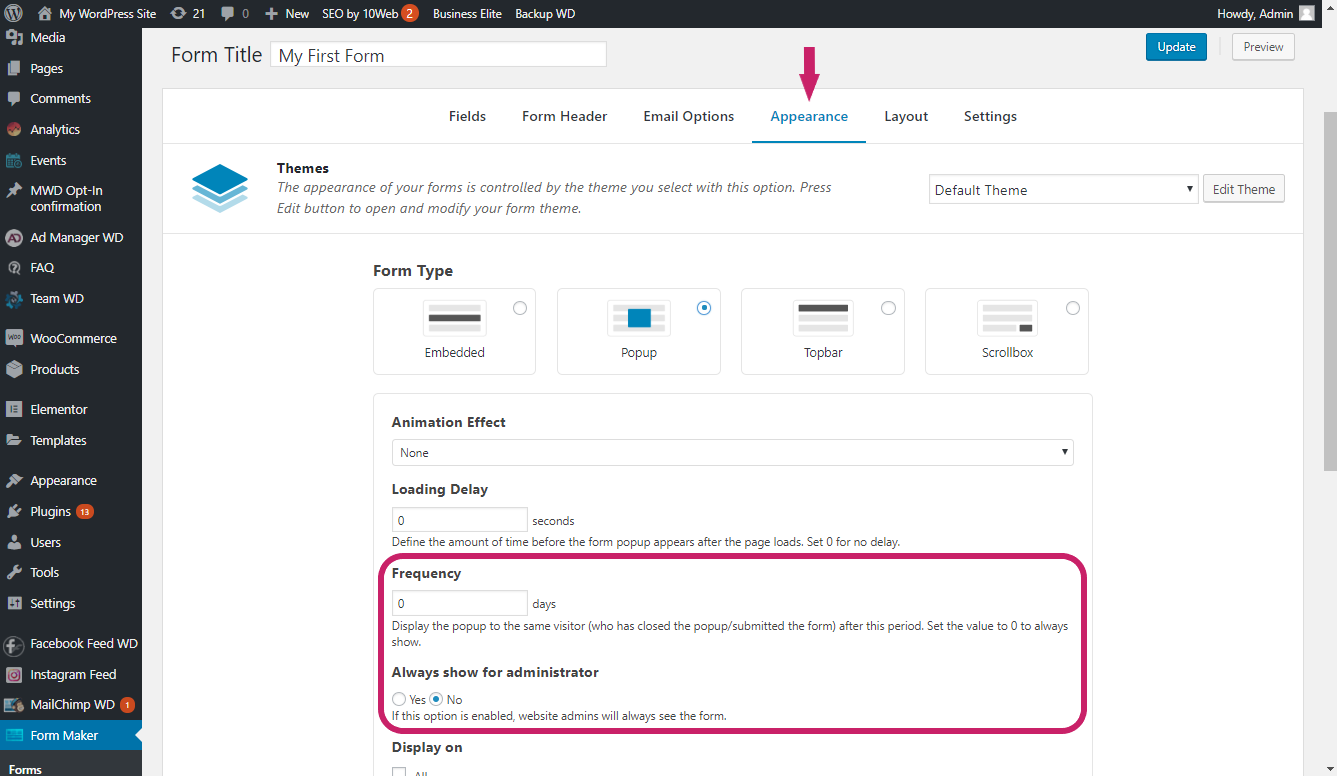 Display on
Lets you choose all post types, where the current form is going to appear as a pop-up, top-bar or scroll-box. For instance, if you select About Us, the form will display on this page only.
Display on these category's posts
In case Posts is set for Display on option, you are able to use this setting to select the categories of posts, where your form will appear.
Automatically check new categories
If you add a new category on your WordPress site, it will be listed under Display on these category's posts option. Enable this setting to display the form on post of new categories automatically.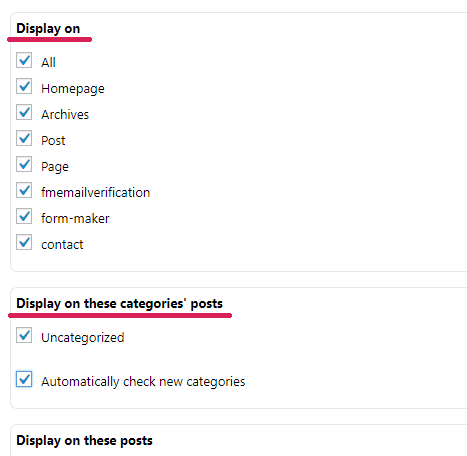 Display on these posts/Display on these pages
Form Maker lets you specify multiple posts and pages where your form will display as a pop-up, top-bar or scroll-box. Click on the inputs of these two options, then choose all necessary posts and pages.
Hide on Mobile
This setting lets you disable the form on smartphones and tablets.