Submissions feature of WordPress Form Maker plugin lets you view the full record of entries made on each form. To begin managing the entries, navigate to Form Maker > Submissions page. Choose your form from Select a form drop-down box to display its submitted information. Furthermore, you are able to view Statistics of Single/Multiple Choice and Select Box fields.
Note: Depending on the selected form, the defined columns will change.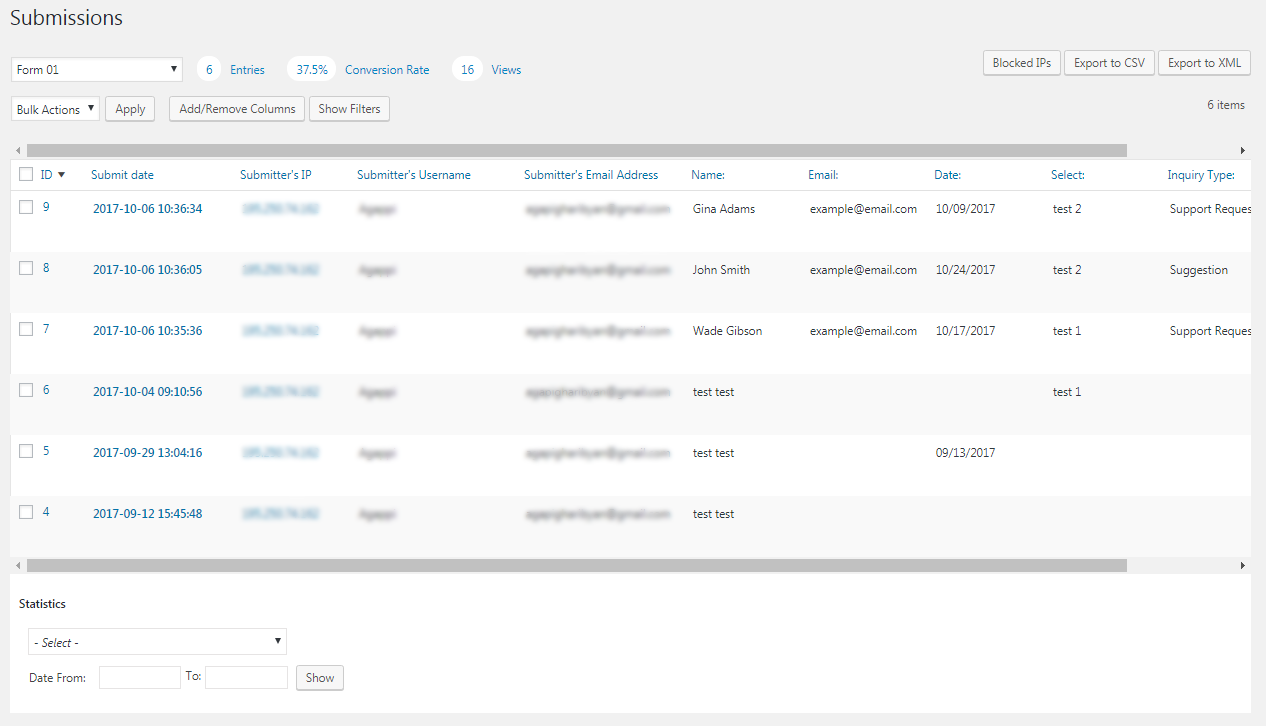 Entries / Conversion Rate / Views
These attributes of the Submissions page will help you quickly view the statistics of the selected form.
Export to CSV / Export to XML
You are able to download all submissions of each form in CSV or XML format by clicking on these buttons.
Show Filters
Form Maker lets you filter form submissions by values provided by the user, e.g. submitter's email address, name and more. Press Show Filters button, write the values you wish to search with, then press Search. Click Reset button to clear the filters.
Payment Submission
In case of a form with a payment, you will have the option to change the payment status from the submission list.
Add/Remove Columns
This button will help you customize the columns which display in submissions of the selected form. Click on the button and unmark the columns you wish to hide.
Note: Adding/Removing columns does not delete columns from the submissions table. It just hides them until you activate them again.
Block IPs / Unblock IPs
In case you are receiving spam submissions from certain IP addresses, you can block these addresses. Mark all spam submissions as checked, choose Block IPs option from Bulk Actions and press Apply. You are able to unblock these IP addresses anytime.
To access the list of the black-listed IP addresses, click on Blocked IPs button. Unblock items by selecting them, choosing Delete from Bulk Actions, then pressing Apply. In addition, you can block IP addresses manually the following way. Provide the IP address them in the corresponding input, then press Add IP.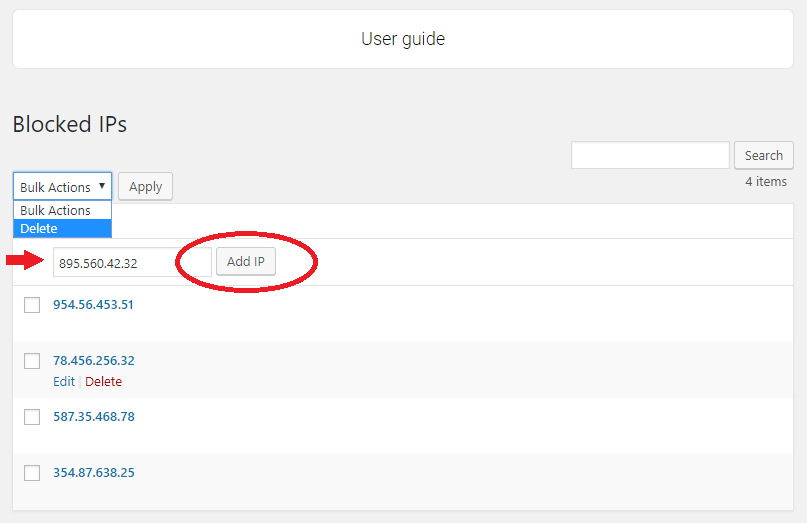 Delete
If you wish to remove some or all submissions of a form, mark them as checked and select Delete option from Bulk Actions. Clicking Apply will delete these entries permanently.