WordPress Slider plugin allows you to use WordPress posts in your slideshow, as well as embed media to generate slides. Let's discuss each of these options separately.
Start with editing a slider or adding a new one, then press Add Slides button.
Using WordPress Posts as Slides
Navigate to Posts tab to begin adding WordPress posts slides to your slideshow. This toolbox includes a selectable list of posts, which are created on your website and have featured images. The list also displays important data about each post, such as its author, date when it was created, and more.
Important! You can only include posts with featured images.
Slider plugin lets you filter the posts by choosing a category, or using the Search input. Select the entries you would like to add as slides, then click Add to Slider button.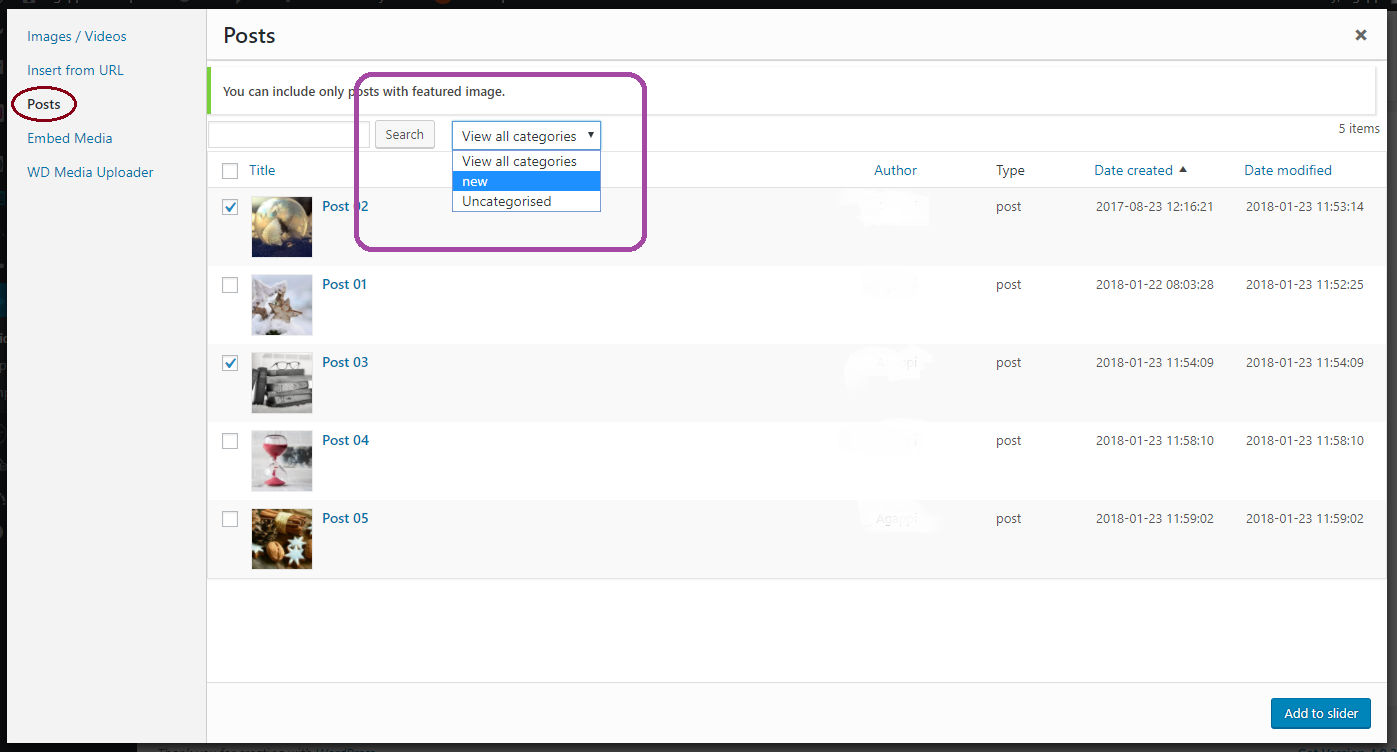 After selecting posts, Slider plugin will automatically use their featured images as slides. Also, a part of the post content will appear as a text layer. The text can be edited further using text layer settings.
Note: In case you edit a post which is included in the slider, the modification will not be synced to the slide dynamically.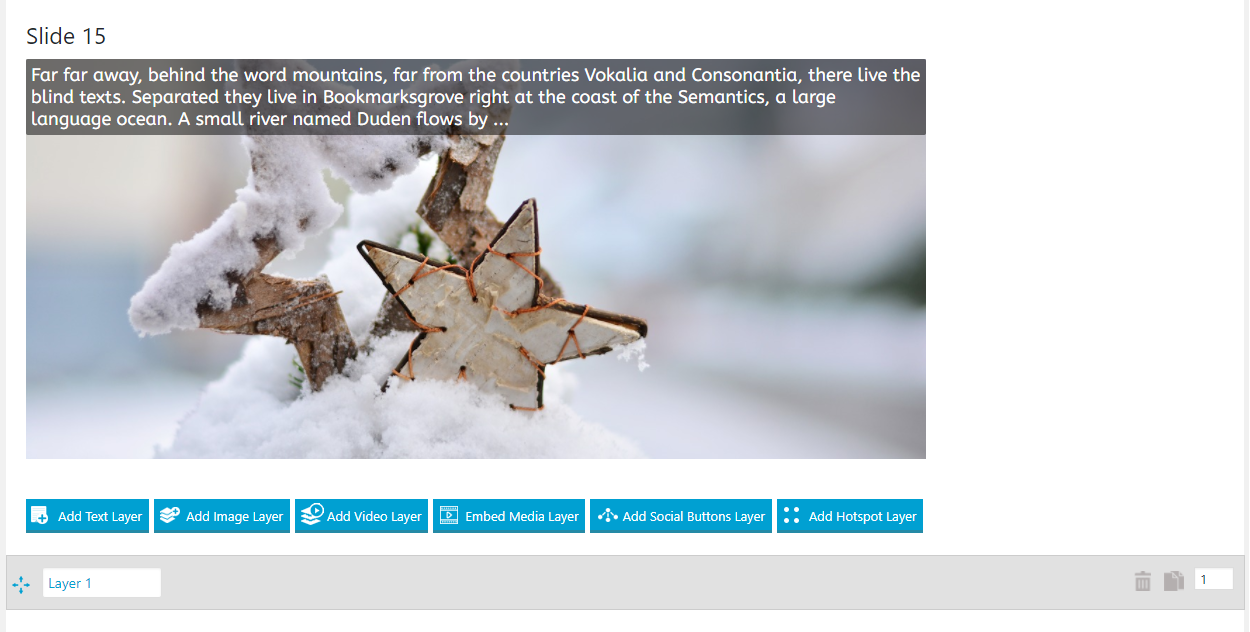 Embedding Media to Sliders
Slider plugin also lets you embed media from various platforms, such as YouTube and Vimeo. To use this feature, press Add Slides button then click on Embed Media tab. Use the input bar above to add the URL of the image or video you wish to add, then press Add to slider button.
You can import items from the following websites:
YouTube,
Vimeo,
Instagram,
Flickr,
Dailymotion.
For instance, when adding a YouTube video as a slideshow item, you just need to provide its link:
https://www.youtube.com/watch?v=xebpM_-GwG0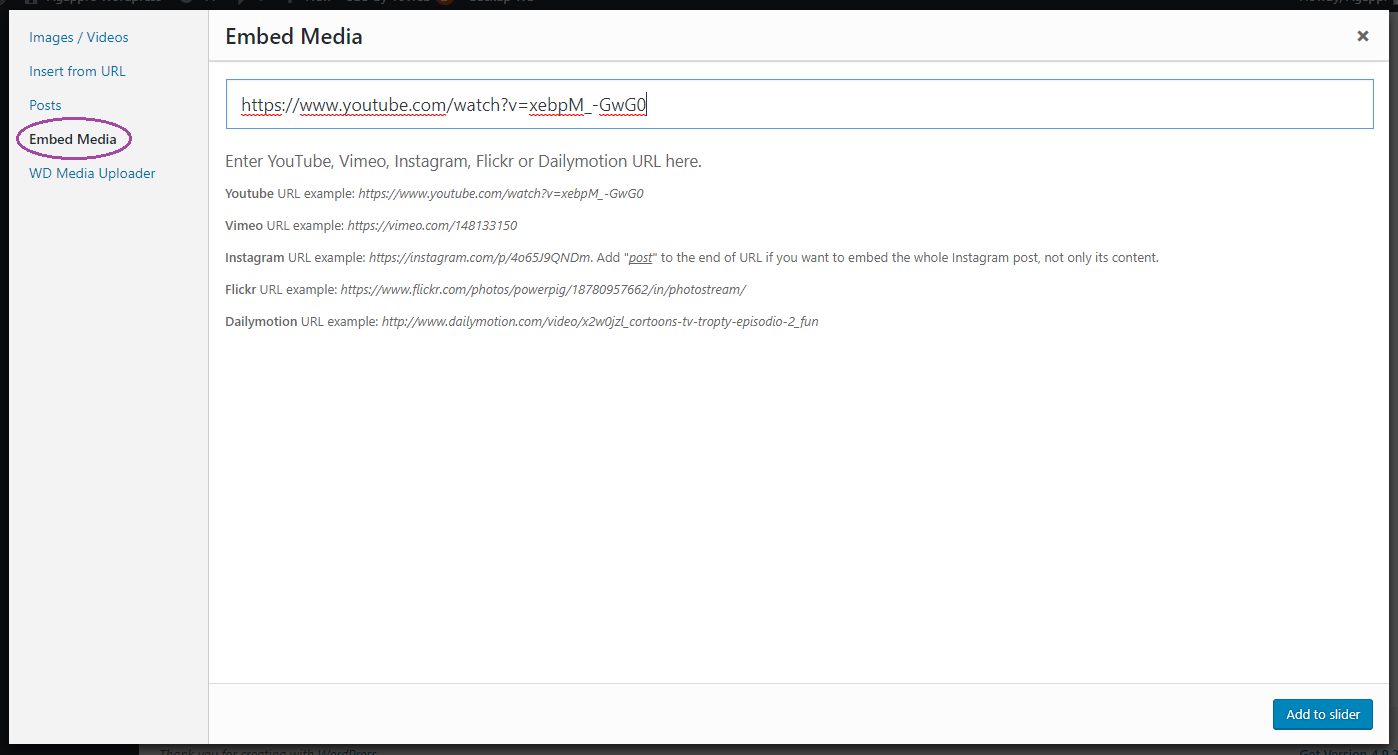 Adding Images from URL
In addition to uploading, embedding items and using WordPress posts, WordPress Slider plugin allows to insert images using their absolute links. To do this, press Add Slides button and navigate to Insert from URL tab.
This section of the toolbox provides an input, where you just need to add the absolute URL of an image. The link needs to have the following structure:
https://example.com/complete-file-path/image.jpg
After providing the URL of the slide image, click Add to Slider button.