NOTE: Layout Fields are deprecated in Form Maker versions 2.13.0 and higher. This article refers to 2.12.x or lower versions of the plugin.
Layout Fields of WordPress Form Maker plugin let you place additional text on your form, as well as add section separators and page breaks. Drag New Field button to the necessary area of your form, then click on Layout Fields tab.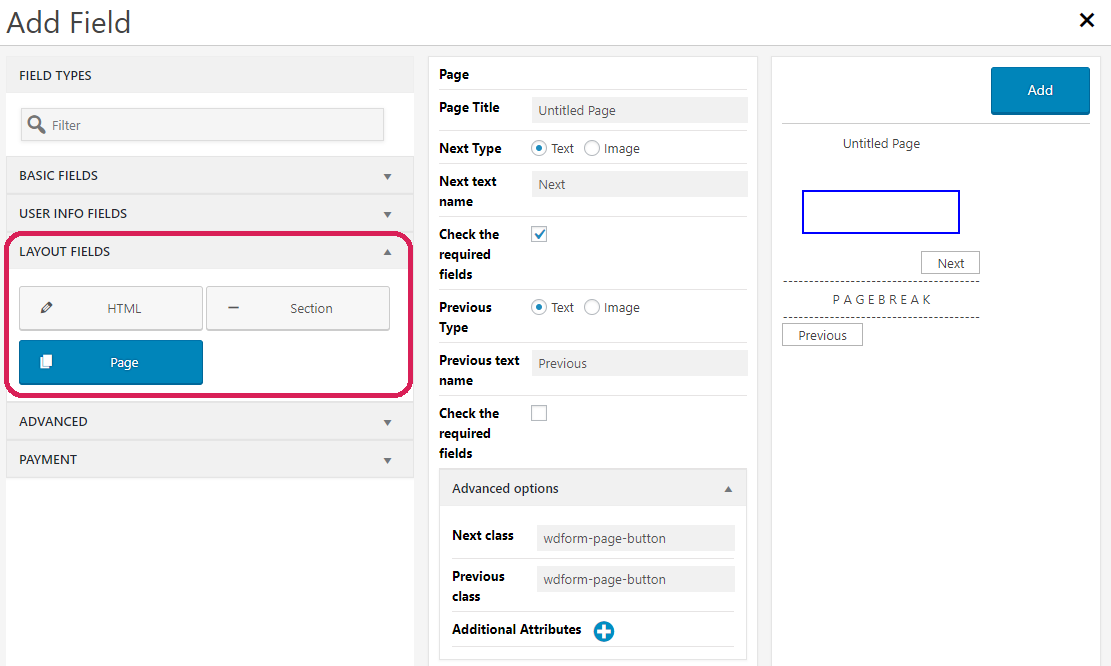 HTML
This layout field lets you add extra information in between the fields of your form. It accepts text or basic HTML with inline CSS. Note, that you need to enable Text mode of the editor to write HTML code.
Section
You can add a separator between sections of your form using Section Break field. This helps you have an organized display of form fields. And also, it lets you have a different number of columns in different sections of the form.
Page
This field lets you separate your form into multiple pages. You can set Page Titles for each page, as well as customize Next/Previous buttons.
Next Type/Previous Type. Choose the type of Next and Previous buttons. They can be set to Text or Image.
Next text name/Previous text name. Set the titles for Next and Previous text buttons. Note, that this only applies when Next Type and Previous Type are Text.
Check the required fields. Activate this option, in case you would like the form to validate all fields when users click Next.
Next class/Previous class (Advanced Options). You can assign a unique class to Next and Previous buttons using this option. It is helpful, in case you need to apply a specific CSS or Javascript code to these buttons.
Page Bar As soon as you add a Page Break field, you are able to add Page Bar to your form. Click on the small pencil icon above your form content to access the following bar types:
Steps. This option adds tabs for each page. Users can navigate through form pages by clicking on the tabs.
Percentage. You can configure an elegant progress bar with a percentage using this option. It will appear above your form.
No Context. If you'd like to have a simple-looking multi-page form without additional navigation options, select this setting.
When Page Bar option is set to Steps or Percentage, Form Maker offers the settings listed below:
Show Page Titles in Progress Bar. Activate this option to display page titles on the top progress bar of your form.
Show Page Numbers in Footer. Mark this option as checked, in case you would like to show page numbers below your form.
Pages Title. Provide the titles of your form pages using this setting.
Important! The structure of Section Break and Page Break fields does not allow moving them to change their positions. However, you can do this by dragging the form fields around the breaks.