In addition to publishing forms with 4 stunning types, WordPress Form Maker plugin lets you place your forms on widget areas, as well as add them into custom PHP templates. Another fantastic functionality of Form Maker is its Front-end Submissions feature. It allows you to publish submissions on front-end of your website.
Publishing Forms as Widgets
To publish a form on widget areas, go to Appearance > Widgets page of the WordPress dashboard or your website. You can place your form on any widget area your website theme provides.
Search for Form Maker widget and drag it to the widget area where you wish to place your form. Specify a Title for the widget and choose the form you wish to publish. Press Save after making these changes.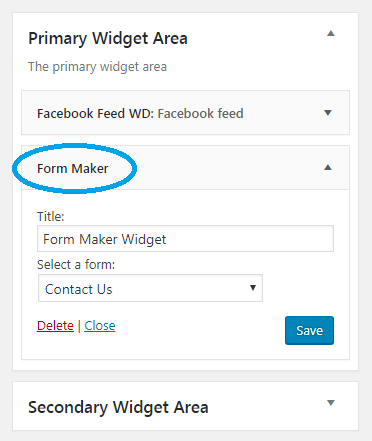 Placing Forms Into Custom Templates
In case your website is built with custom templates, where widgets and shortcodes cannot be used, Form Maker plugin allows you to publish your forms using PHP functions. You can do that by just copying the functions into the desired section of the custom .php files.
To access the PHP functions of your forms, navigate to Form Maker > Forms page. The functions for each item are listed under PHP function column of this dashboard.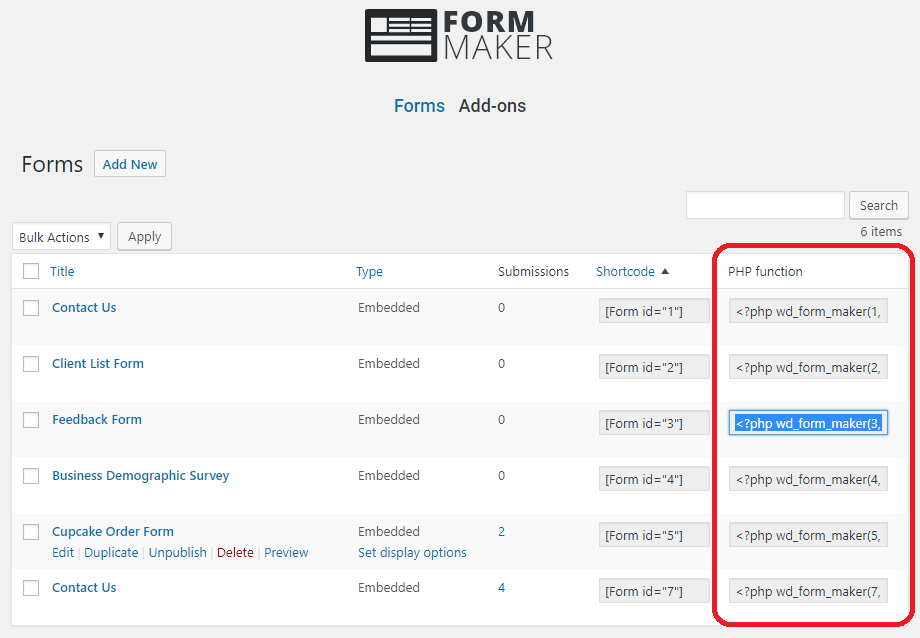 Publishing Submissions
To let you showcase the results of a survey or the statistics of your form, Form Maker plugin allows you to publish submissions on the frontend. As described in Settings: General Options section of this guide, the plugin lets you select user roles which will be able to view the published submissions. Also, in the same section, you are able to choose fields to hide from front-end submissions.
Let's discuss how the submissions are published. Firstly, add/edit the page or post, where you wish to publish the submissions of form. Then press Add Submission button from the top of the post editor.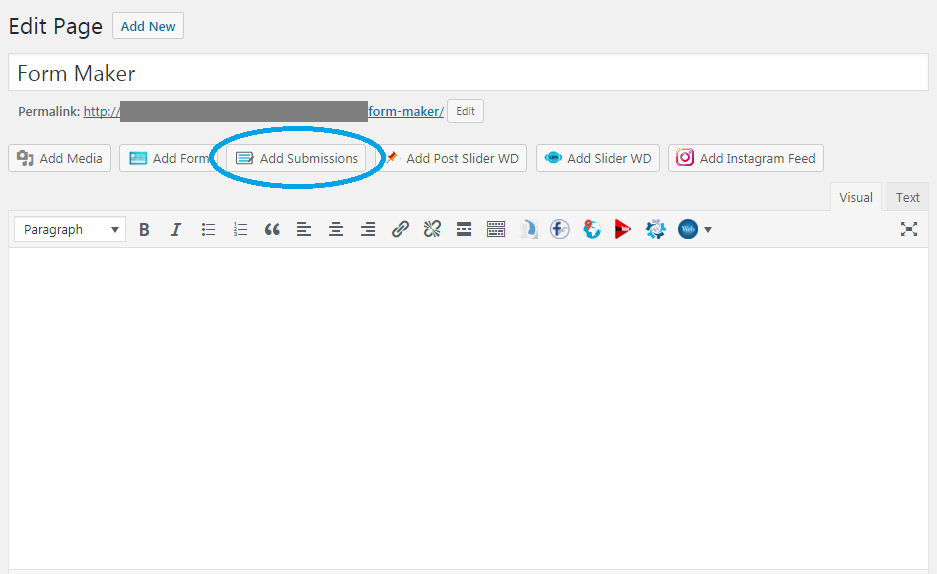 Select a Form. Use this drop-down to choose the form, submissions of which you would like to publish.
Select Date Range. You can display submissions from a specific date range. Use this option to select From and To dates.
Select fields. Use this option to choose which columns to show on the form. Uncheck the options, which you need to hide on front-end submissions.
Export to / Show. These two settings are responsible for showing the rest of the attributes of front-end submissions. You can enable/disable CSV/XML export buttons, Statistics, Views, Conversion Rate and other additional information.
After configuring all necessary options, press Insert. Publish your page with submissions, and you will be able to view them on front-end.