Do you want to have elegant submissions layout for your WordPress forms? Would you rather have individual submissions customized and designed as documents? What is the best format for that? Well, a PDF is a great choice - it's convenient in use and can be viewed with free software applications. 10Web introduces PDF Integration extension of WordPress Form Maker plugin as a game changer for the layout of form submissions.
PDF Integration extension allows to send the submitted information within PDF attachments. You can select values of form fields to add to the PDF files, as well as insert additional content. Get PDF Integration extension today to enhance the functionality of your forms.
Attention: PDF Integration extension requires Form Maker version 1.7.84/2.7.84 or higher. If you are using an older version, please update your plugin.
Configuring PDF Integration
To begin setting up PDF Integration extension, install it from 10Web Dashboard first. Then access WordPress administrative panel of your website and navigate to Form Maker > Forms page. Go to Form Options and open PDF Integration tab. Enable the feature and begin setting up the following options.
Send Email To. Use this option to select the recipients of PDF submissions of this form, Administrator or User emails. In this case, the PDF files will be sent to all addresses added to Email to administrator and Email to user sections of Email Options, including BCCand CC.
Folder Path. This setting defines the path of the folder, where the created PDF files will be uploaded to. By default, the files are sent to wp-content/uploads/form-maker/pdf directory.
Custom Text. With this editor box, you can enter the content of the PDF submissions. It allows you to add custom text and include the values of form fields using Add Placeholder button.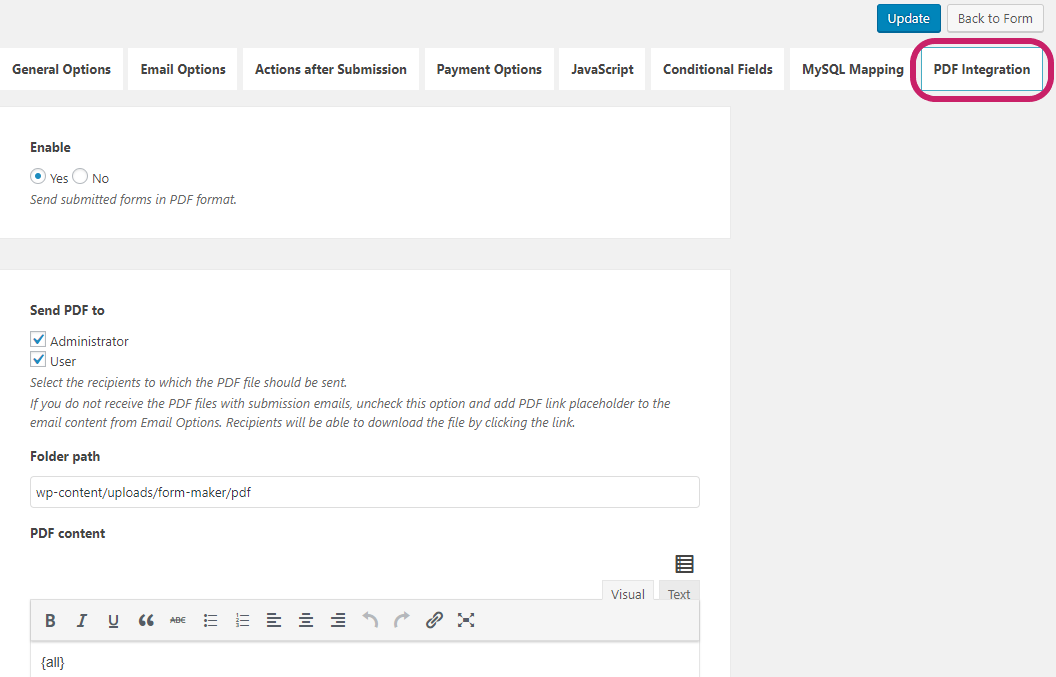 PDF Integration extension works the following way. Let's assume we have a form with these 5 fields:
Name,
Event Title,
Date,
Type of Participation,
Campaign Name.
By inserting the values of the fields above, we can set the PDF document to have the content below:
Dear Mr. Black, With this letter I, %Name%, confirm that I have read the Terms and Conditions and I am willing to participate in %Event Title% on %Date% as a %Type of Participation%. I want all proceeds from my activities to be directed to %Campaign Name%. Sincerely, %Name%
Downloading PDF
In addition to receiving the PDF files as attachments to submission emails, you can download them from Form Maker > Submissionspage. Select your form and hover over the submission you wish to download as PDF. Clicking on Download PDF button will provide you with the PDF submission.