With the user-friendly Settings of WordPress Event Calendar plugin you can fully customize the features of your events and calendars. To begin configuring these options, navigate to Events > Settings page from WordPress administrative dashboard of your website.
Event Calendar WD Settings are divided into the following sections:
General,
Events,
Category Page,
Custom CSS,
Google Maps.
Let's go through the options of these sections separately, helping you configure your event calendar to perfectly suit your website.
General Settings
With General section of Event Calendar WD Settings, you can configure the main attributes of your calendars. You can modify options such as:
clear cache which is pulled from calendars on the website,
set the timezone for your calendars and events,
define date and time format, as well as choose between 24-hour or 12-hour formats,
select the week start day and the ordering of organizers and venues,
set the period for showing events in list view,
choose the maximum number of characters for event description,
and much more.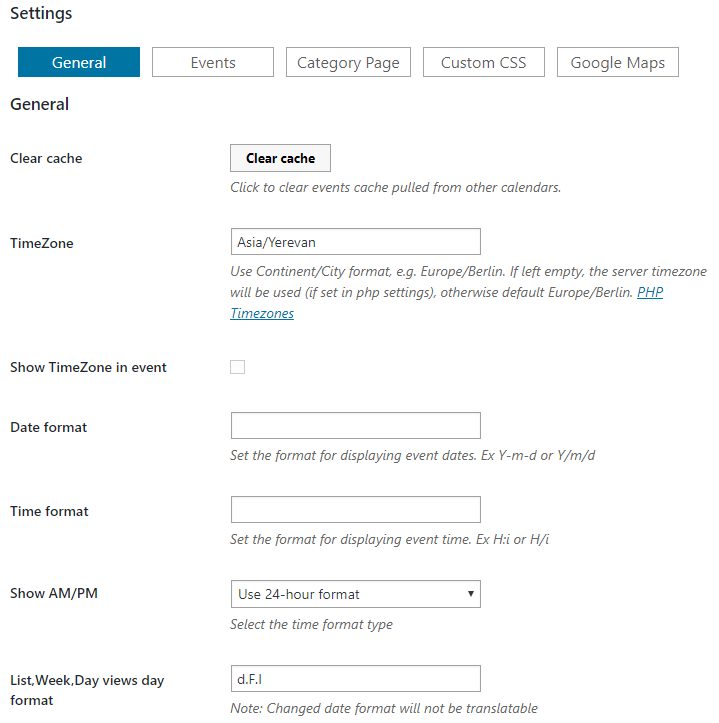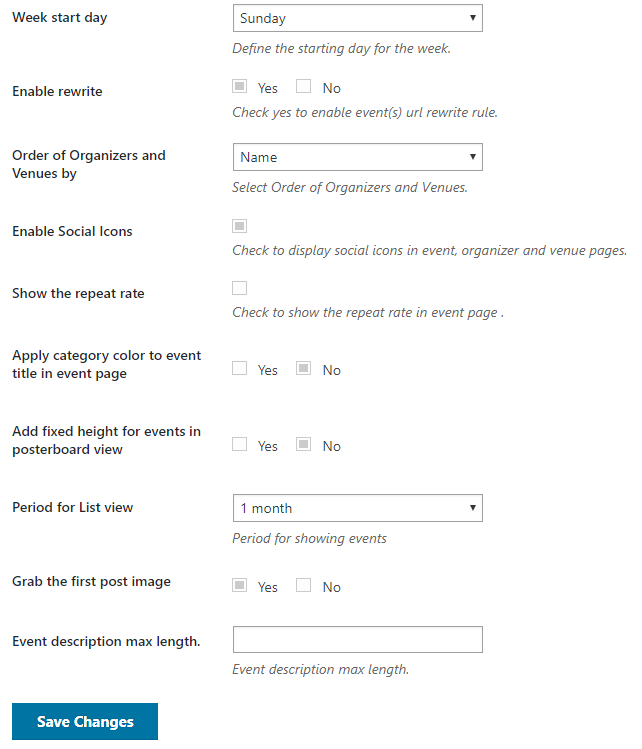 Event Settings
On Event tab of Event Calendar WD Settings, you can find all necessary options for customizing the features of single event pages, as well as events archive page. You can make the following changes using this section:
set the number of visible events in Month view of the calendar,
choose the ordering of entries on events archive page,
enable or disable website sidebar on single event pages,
activate a specified number of related events on single event pages,
enable popup box and showcase events with it,
activate comments for single event pages,
set the plugin to hide past events,
and more.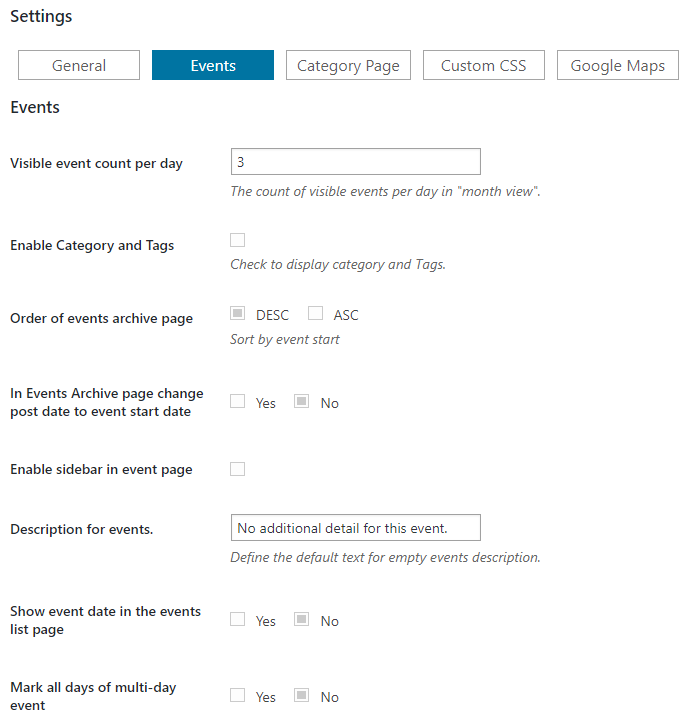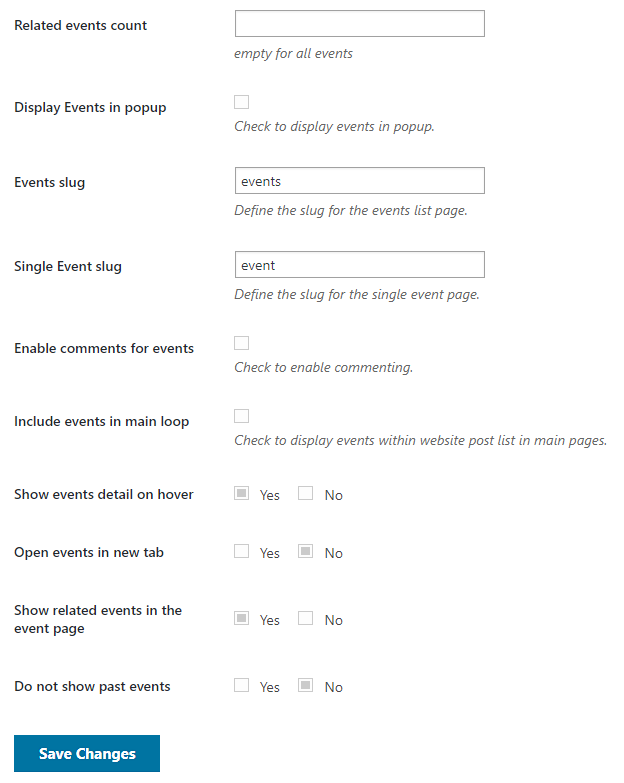 Category Page Settings
WordPress Event Calendar lets you display events of each category separately, using its Category Pages. To customize the features of these pages, navigate to Category Page tab of Event Calendar WD Settings. Using these options, you can:
change the slug in the URL of category pages,
enable or disable description of each event,
activate and display category icon,
and much more.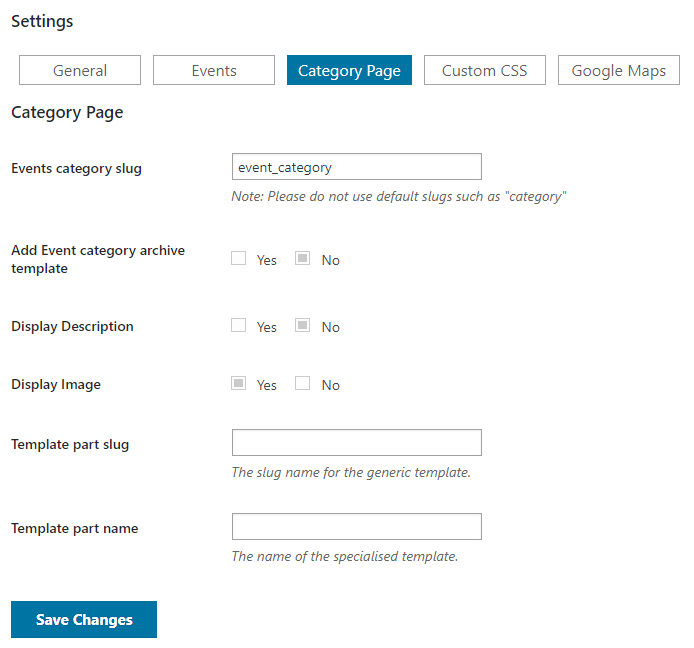 Custom CSS
Event Calendar WD plugin lets you apply additional custom styles to your calendars, events, category pages, and other elements using Custom CSS editor. To access it, navigate to Custom CSS tab of Event Calendar WD Settings.
You just need to add your CSS code inside the text box of this section, then press Save Changes.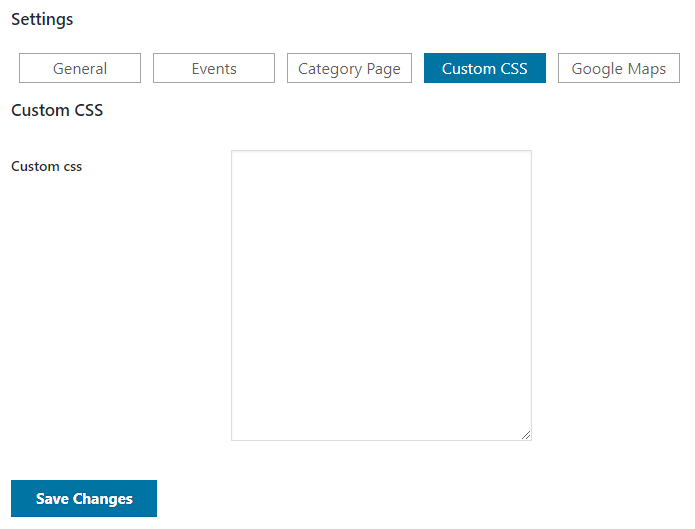 Google Maps
After configuring Google Maps API keys, you can have a beautiful Map accompanying your events and marking event locations. Furthermore, you can personalize the features of these maps with Google Maps tab of Event Calendar Settings.
Use these options to:
set API key and choose the default type of Google Maps,
have the plugin to open Google Maps as the location marker is clicked,
choose the zoom level for the maps,
and apply additional styles to your Google Maps using a trusted third-party script.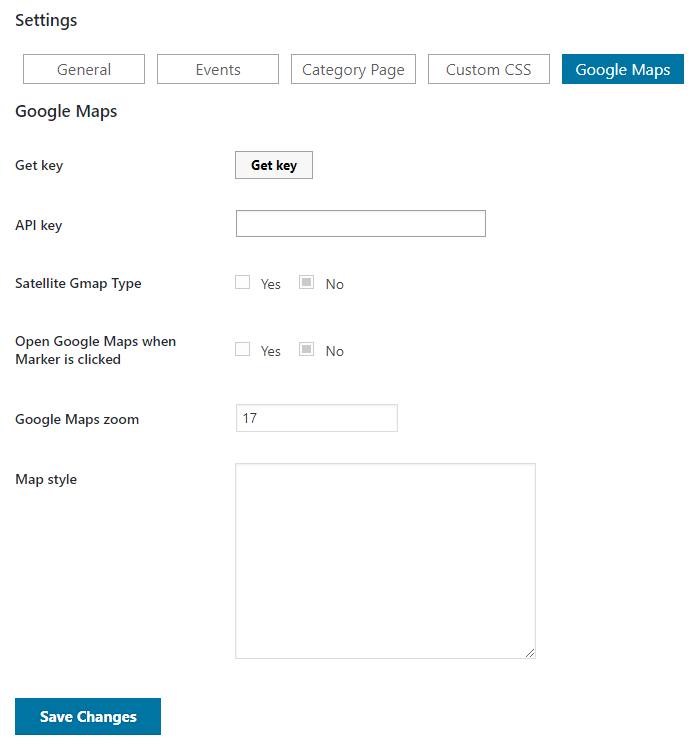 After setting up the options of each section, make sure to press Save Changes button.