After creating a calendar with Event Calendar plugin, click on Events link from WordPress administrative panel. You will find the list of all created events on this page. This dashboard allows you to search through the events and filter them by the following parameters:
Calendars the events are added to,
Event categories,
Event organizers,
Venues,
Event tags,
Event dates.
Using this dashboard, you can edit or remove multiple events by applying Bulk Actions. Also, you can modify events individually by hovering on them and using the following tools:
Edit,
Quick Edit,
Trash,
View,
Duplicate Event.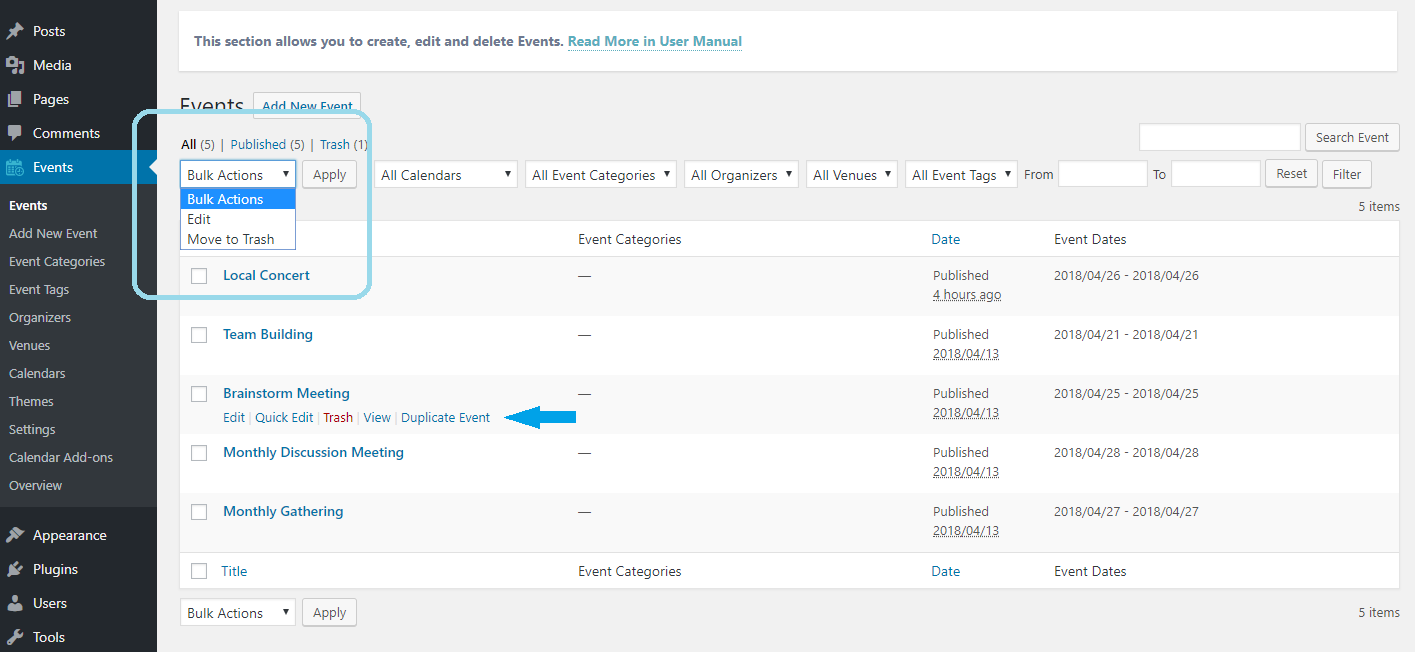 Adding a New Event
Begin creating your events by clicking on Add New Event button. You will access the events editor, along with its useful tools. Write a title for the event and add a description to provide users with details about your event. You can have:
images,
videos,
additional text
in the event description, allowing users to gain comprehensive information about the events they wish to attend.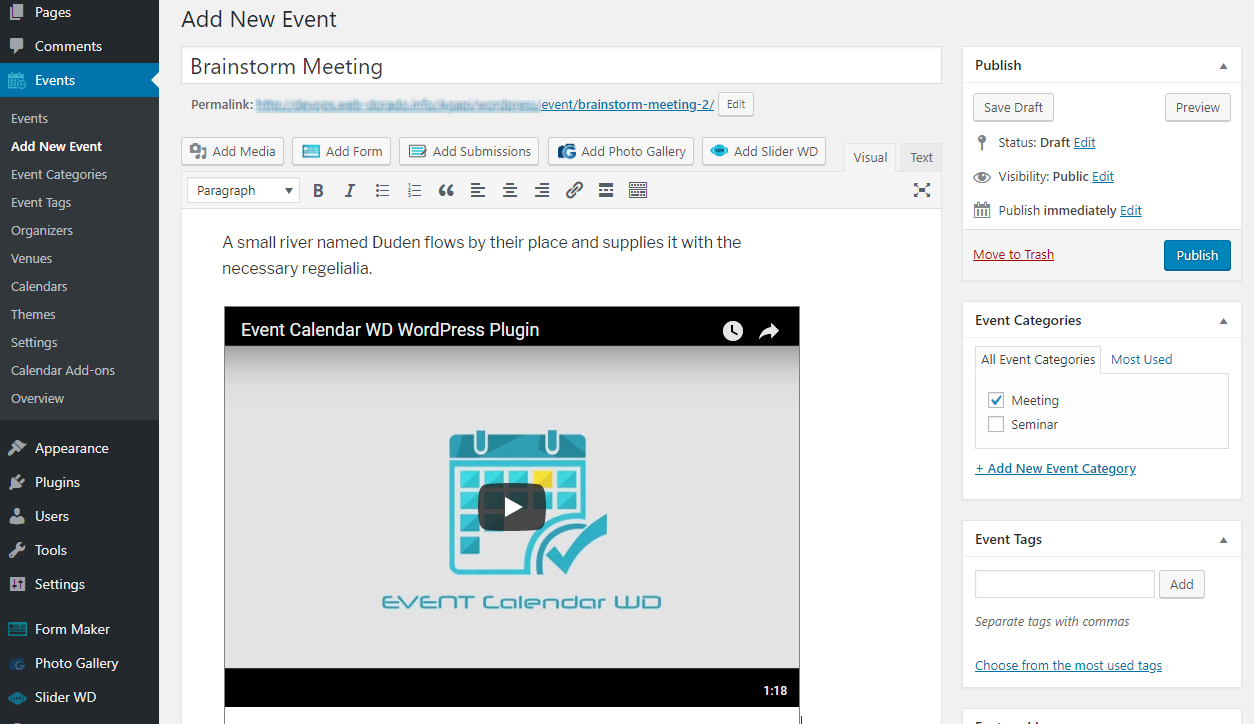 The event editor also lets you add event dates, repeating schedule, venues and other attributes to your event. Scroll down below the content editor to find these wonderful tools of Event Calendar WD plugin.
Event Details
These options of the plugin allow you to configure the mandatory features of events. Click on Event Details bar to expand or collapse the toolbox. Using these options, you can set the following:
Event dates. Click on From and To inputs to open date picker, then select date and time. You can create multi-day events, which last a few days, as well as All-Day events by marking the corresponding option.
Repeat rate. This lets you have your events recurring after a specified period. The repeat rate can be set to one of the following options:

Don't repeat,
Daily,
Weekly,
Monthly,
Yearly.

Event URL. Enter an additional URL to show along with the description of your event.
Event Video URL. Add a YouTube or Vimeo video to accompany your event. Make sure to enter the full URL of the video.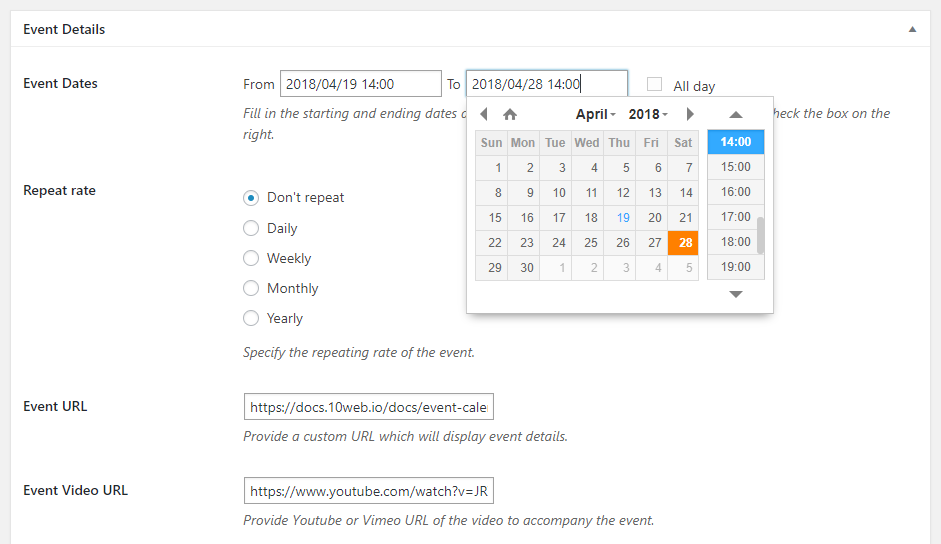 Calendars
Use this toolbox to select a calendar to which the current event will be added to. All calendars created with Event Calendar WD plugin will appear in this list.
You can have the same event appearing in multiple calendars.

Organizer
Event Calendar WD plugin allows you to specify a person or an entity as the organizer of your event. Create organizers by visiting Events > Organizers page, or use Add Organizer link at the bottom of event editor dashboard. Fill in the following information first:
Title,
Description,
Phone,
Website,
afterwards, press Save Organizer button. All created organizers will display here as a list.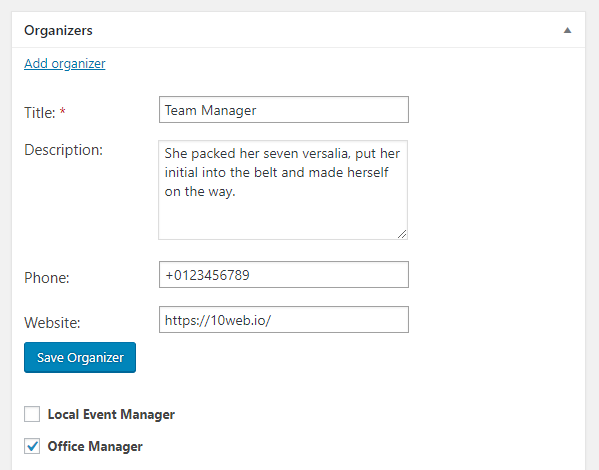 Venue
With Venues of Event Calendar WD plugin, you can specify the location of your event. Also, this feature allows you to display a stunning Google Map, indicating the address of your venue. You can create venues and select them from Event Venue drop-down box.
Alternatively, you can choose Create New option and quickly fill in the following settings:
Event Venue,
Title,
Description,
Phone,
Website,
Address,
Show Google Map.
Note, that Google Maps API key is required to display a map with your events. As you mark Show Google Map option, you will notice the following message:
You need Google Maps API key to display maps. Get a key
Follow the steps in this section of this guide to configure the API key.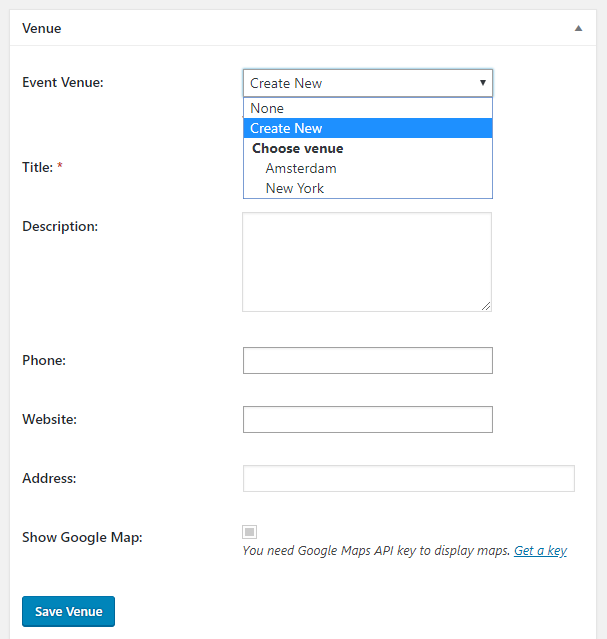 Event Categories and Tags
From the right side of the event editing dashboard, you can select categories and tags for your events.
Add the existing categories by selecting them, or create a new category by clicking on + Add New Event Categorylink. Enter the category name in the input that appears below. Furthermore, you can choose a parent for the new category.
To add event tags, simply write the tag names in the corresponding input, then click Add. You are able to enter multiple tags at once by separating them with commas.
Also, you can choose from the most used tags.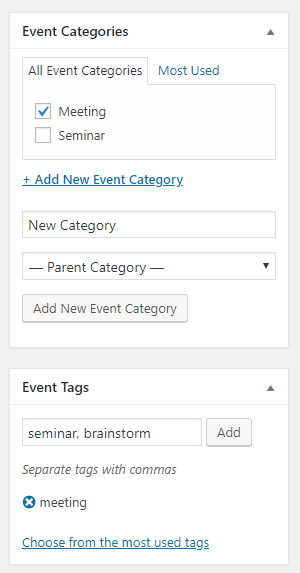 As you finish configuring the event details and attributes, make sure to press Publish/Update to save the changes. You can preview the changes on-the-go, as well as view the event after publishing by clicking on View Event button on WordPress top bar menu.