Pointing your domain to 10Web is the last step in the process of migrating and hosting your website with 10Web. To take advantage of the full spectrum of functionality, speed, and security provided by 10Web, we recommend that you point your domain with 10Web nameservers. 
Before pointing your domain, there are a few steps that will need to be taken:
If you don't have an

account at 10Web

, go ahead and create one 

Create a brand new WP website with 10Web after sign up or

Connect and Make a Copy

of your website hosted elsewhere to the 10Web dashboard

Add the domain to your 10Web account
Add the Domain to Your 10Web Account
To get started, log into your 10Web dashboard and click on the website you'd like to point to 10Web.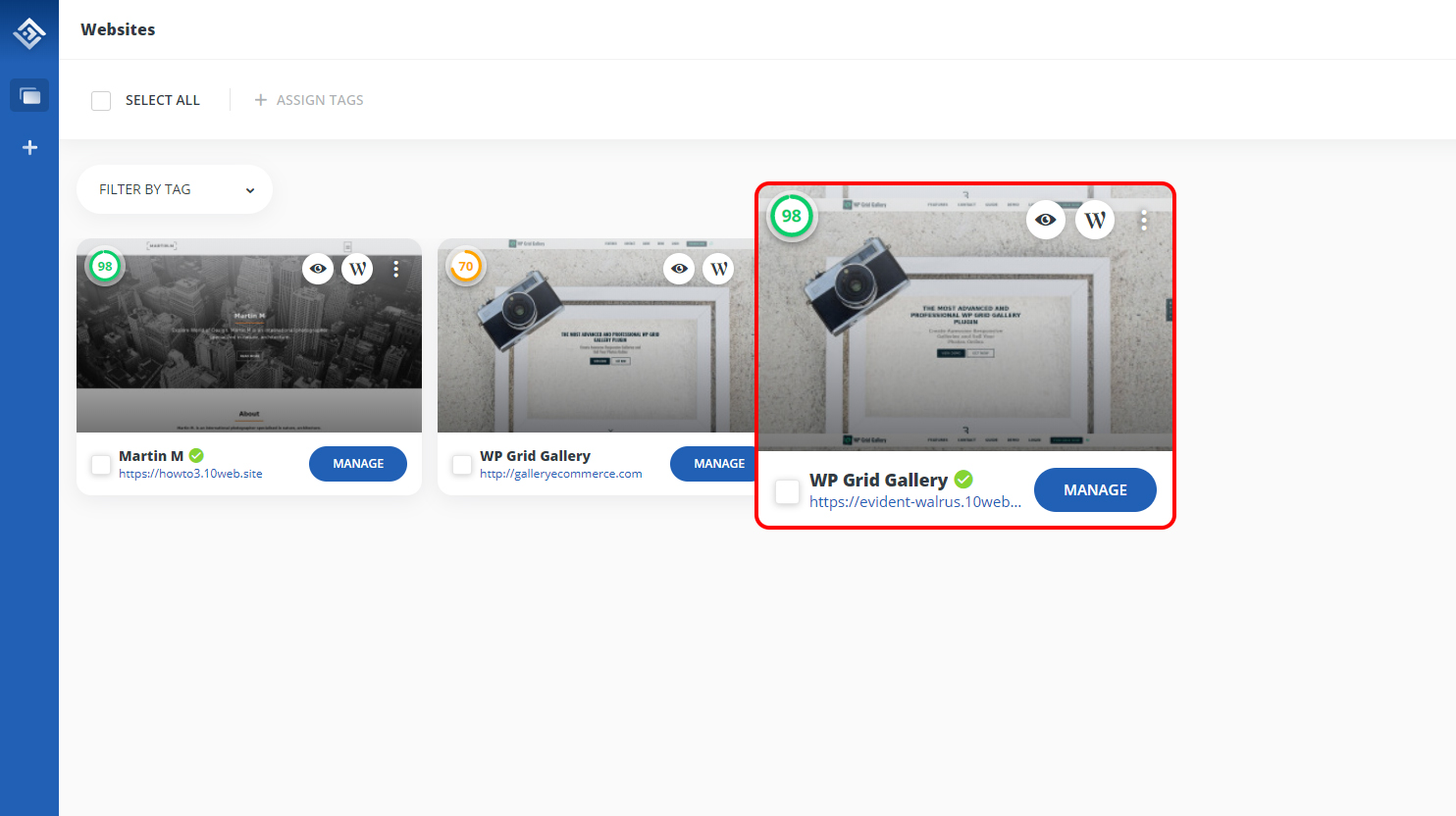 To the left of the dashboard, under Hosting Services, click on Point Domain.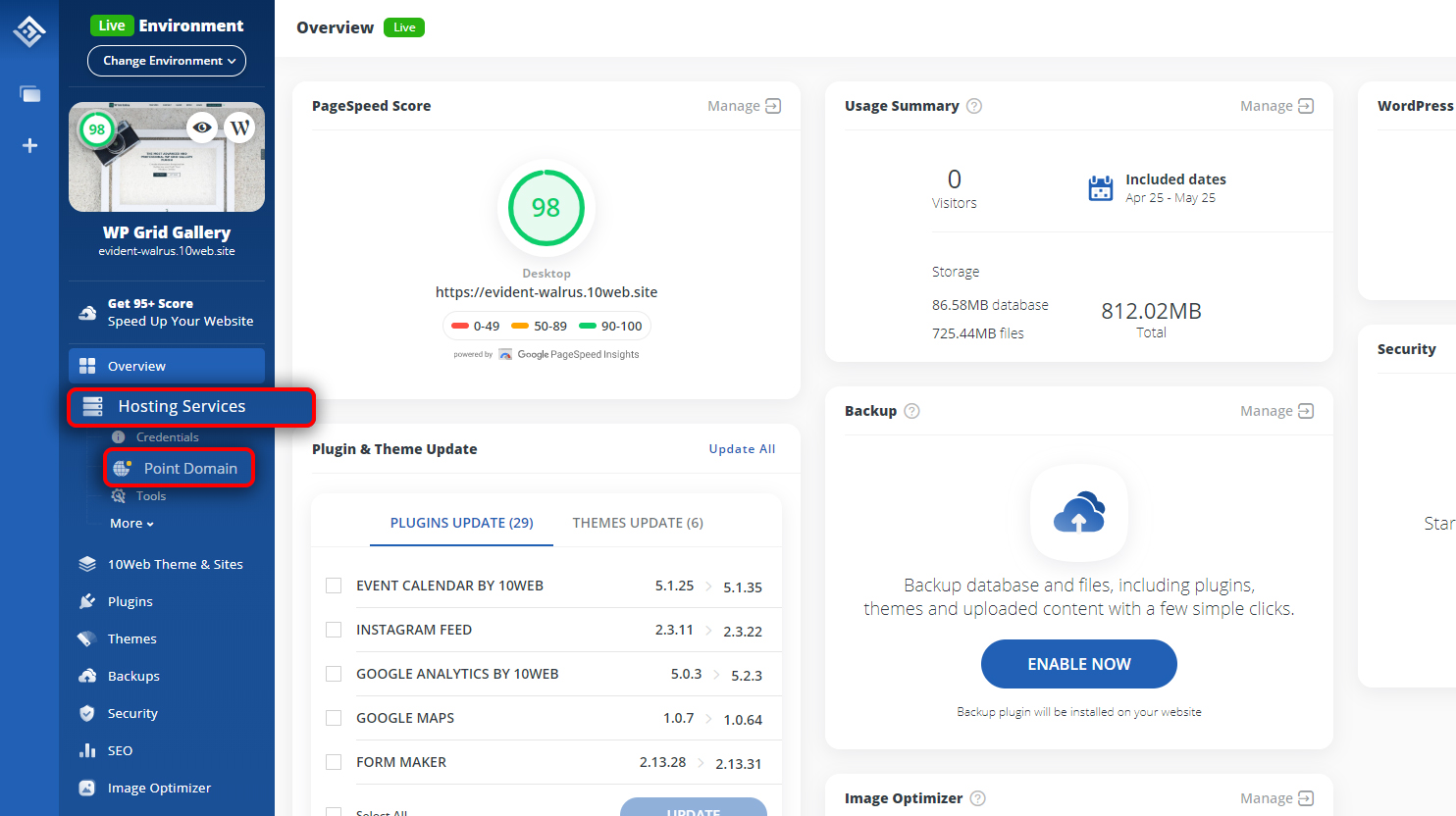 Click on Add Domain to add your domain to 10Web. 
Once you have added your domain, you will be assigned 4 Nameservers.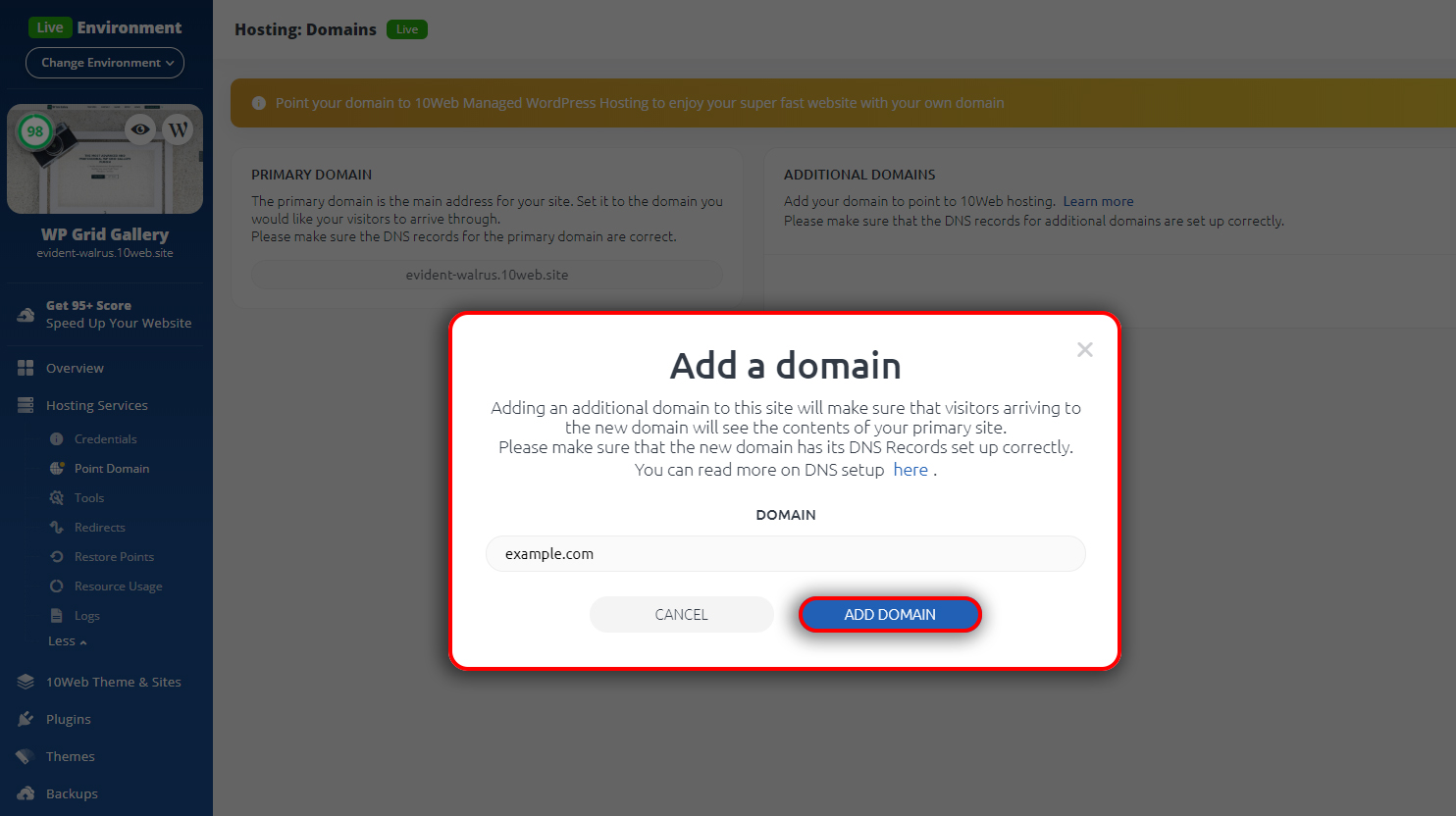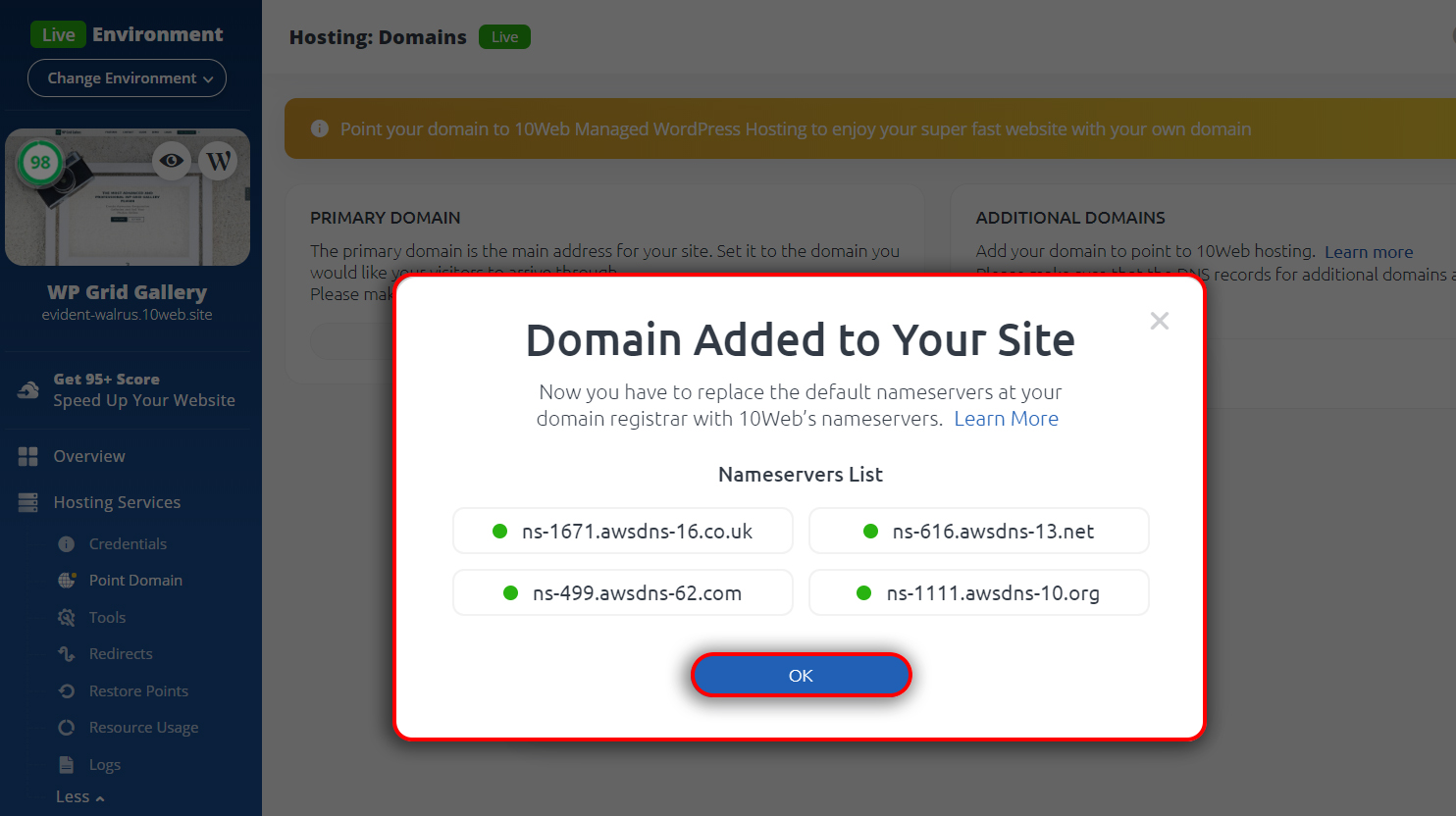 Click Ok to see your domain in the domains list. 
Point Your Domain Using 10Web Nameservers (recommended)
To manage your nameservers and DNS records, click Manage DNS located in front of your newly added domain.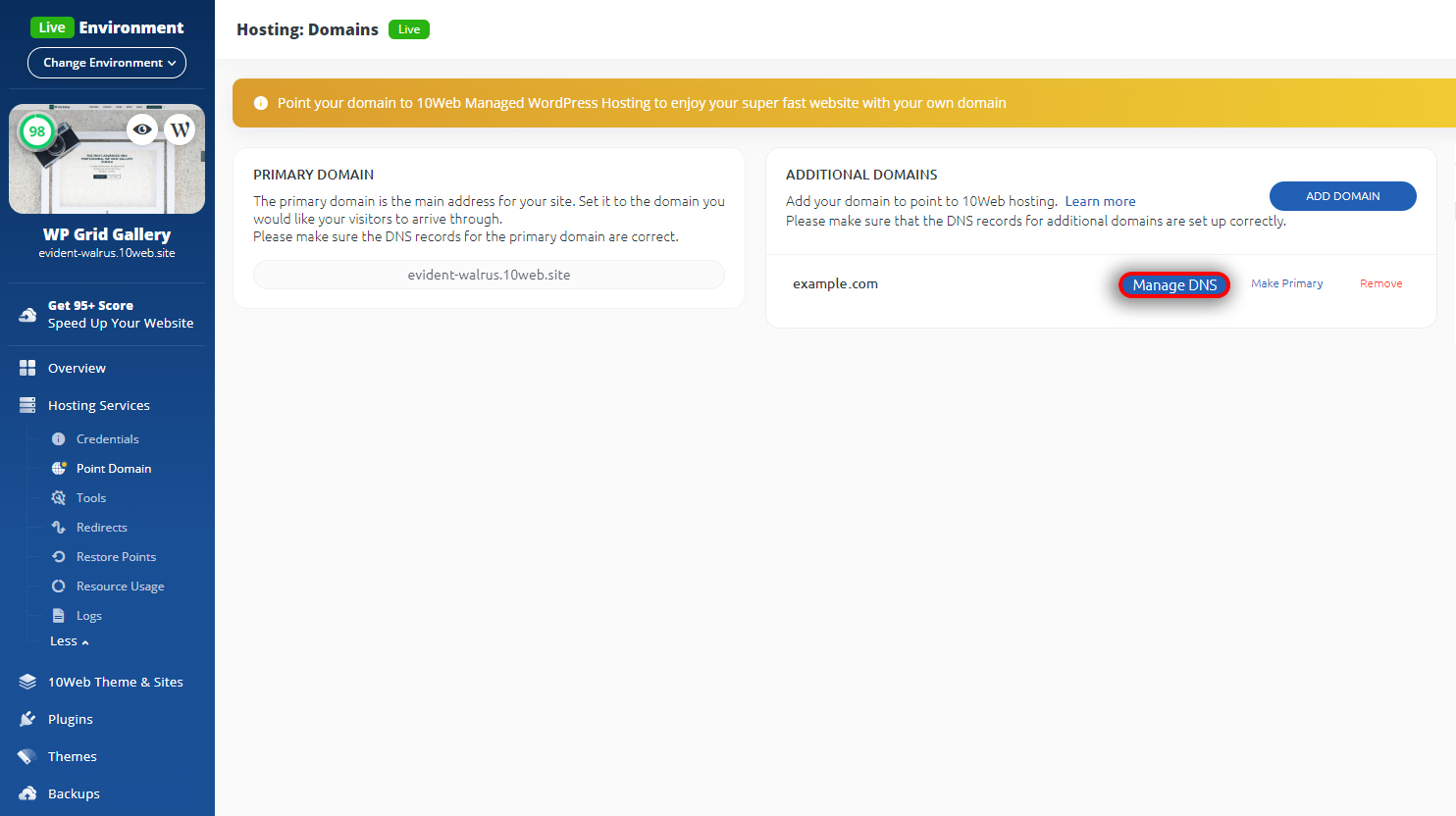 Your nameservers will be at the top of the page. Also, 10Web will automatically create an A record and a CNAME record for your domain, and assure that you go live as soon as possible.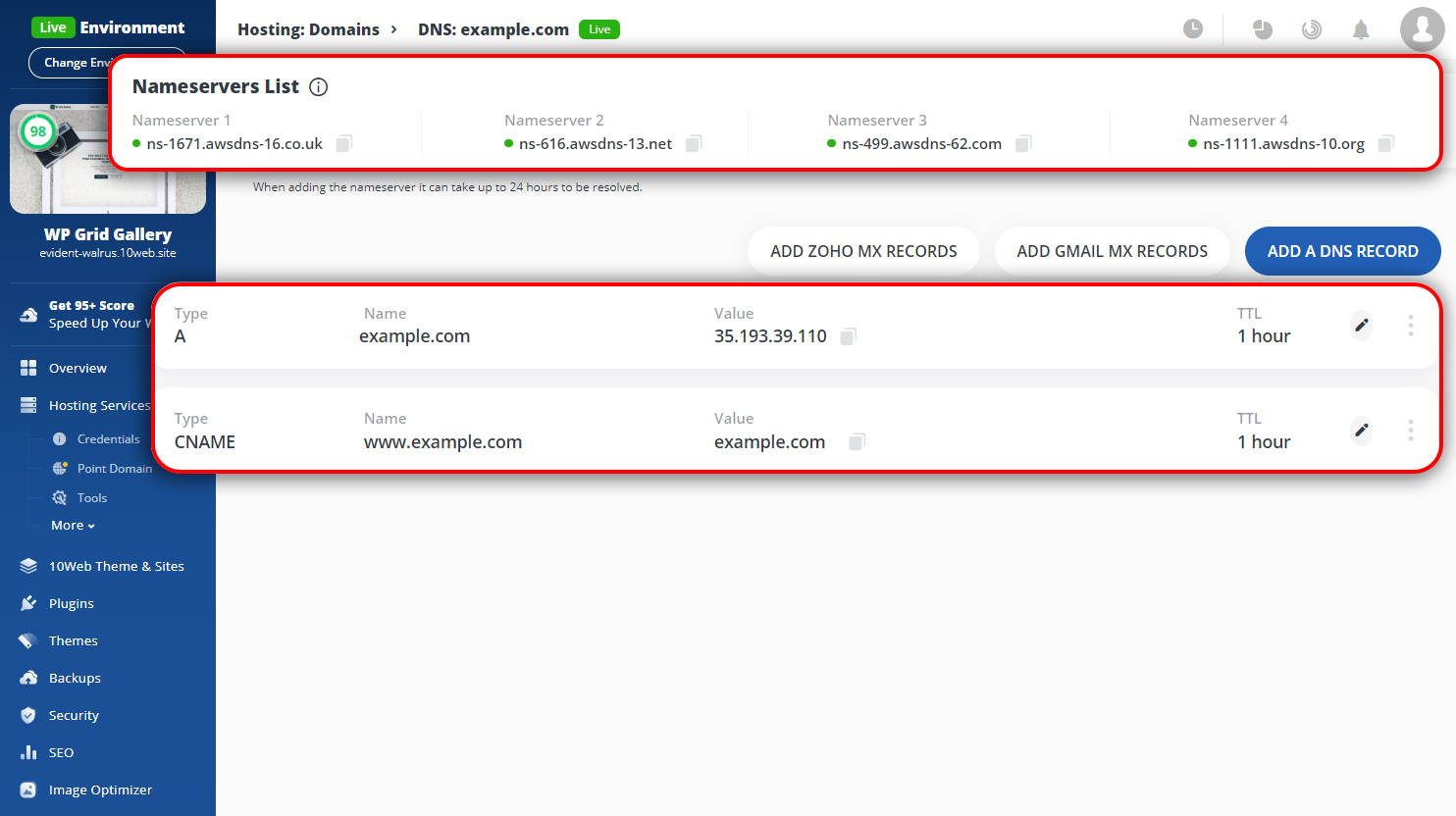 To point your domain using 10Web nameservers, sign into your domain registrar and go to manage the DNS records. 
Replace your domain registrar nameservers with the 10Web nameservers using copy/paste, and Save.
Your newly added records can take up to 24 hours to be resolved.
NOTE: The steps for changing nameservers will depend on your domain registrar.
Here are a few examples.
How to

change your nameservers at

GoDaddy

․

How to

change your nameservers at

NameCheap

․

How to

change your nameservers at

Google Domains

.
Point Your Domain Using an A Record (advanced)
If you'd like to use the nameservers of your domain registrar, you can point your domain to 10Web using an A record. However, please note that we will not be able to fully assist you with your DNS records while you are using the nameservers of your domain registrar. 
Two of the main DNS record types are A record and CNAME record. When you point your domain to 10Web, these records are automatically generated. 
An A (Address) record maps your domain name to a unique IPv4 address.
A CNAME (Canonical Name) record points a domain name to another domain name. For example, if 10web.io is pointed to 35.198.10.51 with an A record, you can point a subdomain like www.10web.io to 10web.io with a CNAME record.
When adding a new record manually, you'll have to enter a TTL value. TTL stands for time to live and indicates the period for which the record remains cached. The recommended TTL by 10Web is 1 hour.
How to Point Your Domain to 10Web Using an A Record
Once you have added your domain to 10Web, you'll have to manually create an A record at your domain registrar to point your domain to 10Web.
To the left of your 10Web dashboard, click on Credentials. In the Basic Details box, copy your IPv4 address and log into your domain registrar to create an A record using this IP address. This step varies for each registrar and provider.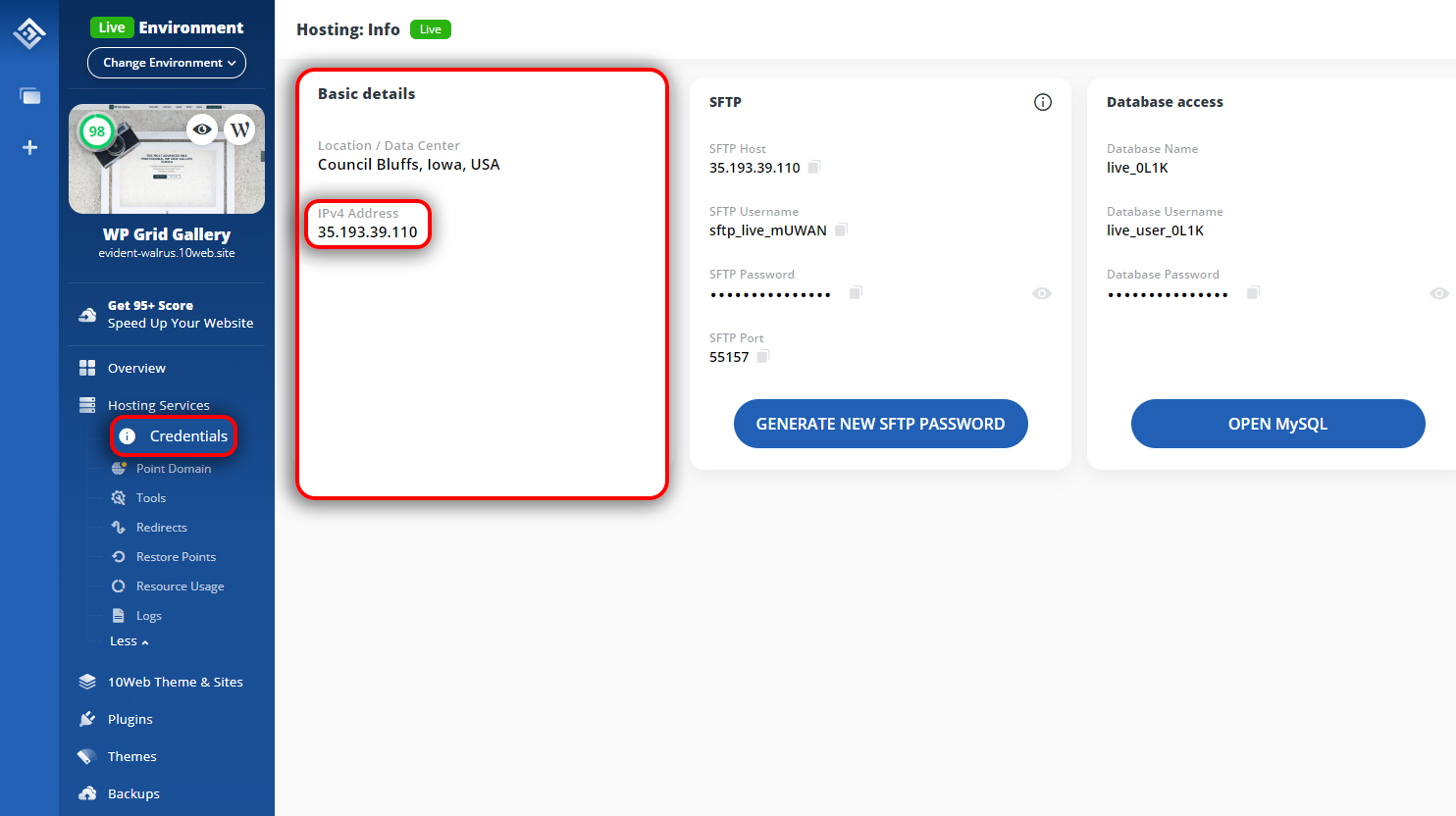 Setting up an A Record With:
Setting up a CNAME Record With: (recommended when pointing with A record)
Once your new address has been resolved, head back to your 10web dashboard and make your new domain primary.
Click on Point Domain and Make Primary.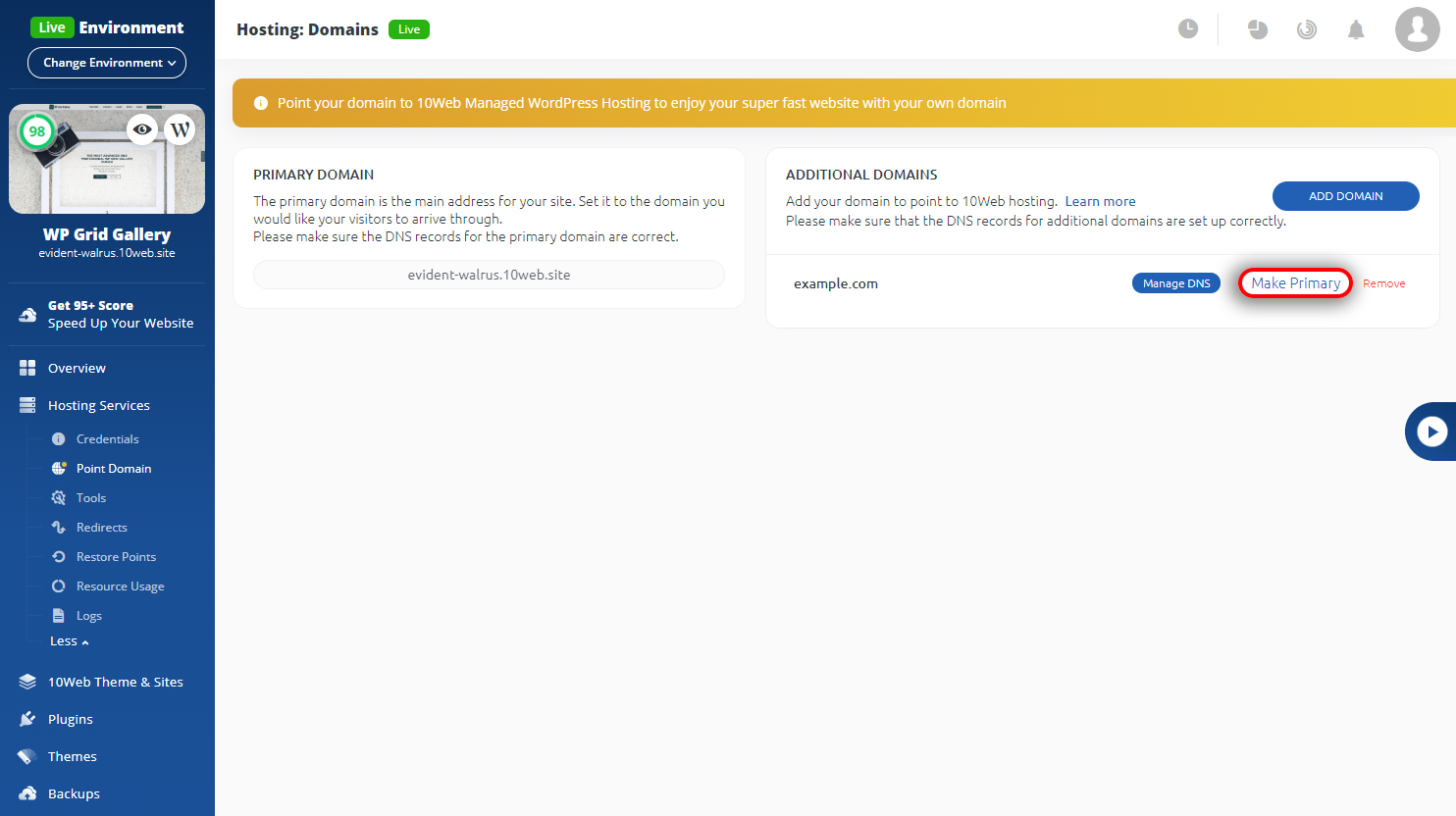 To make your website secure, follow this link to enable HTTPS. It only takes a click!
Originally published at https://10web.io/blog/how-do-i-point-my-domain-to-10web/ on November 13, 2018.