With the 10Web Website Booster, you can optimize the frontend of your websites hosted elsewhere and both front and backends of your websites hosted on 10Web.
Free
You can download the 10Web Website Booster right from wordpress.org.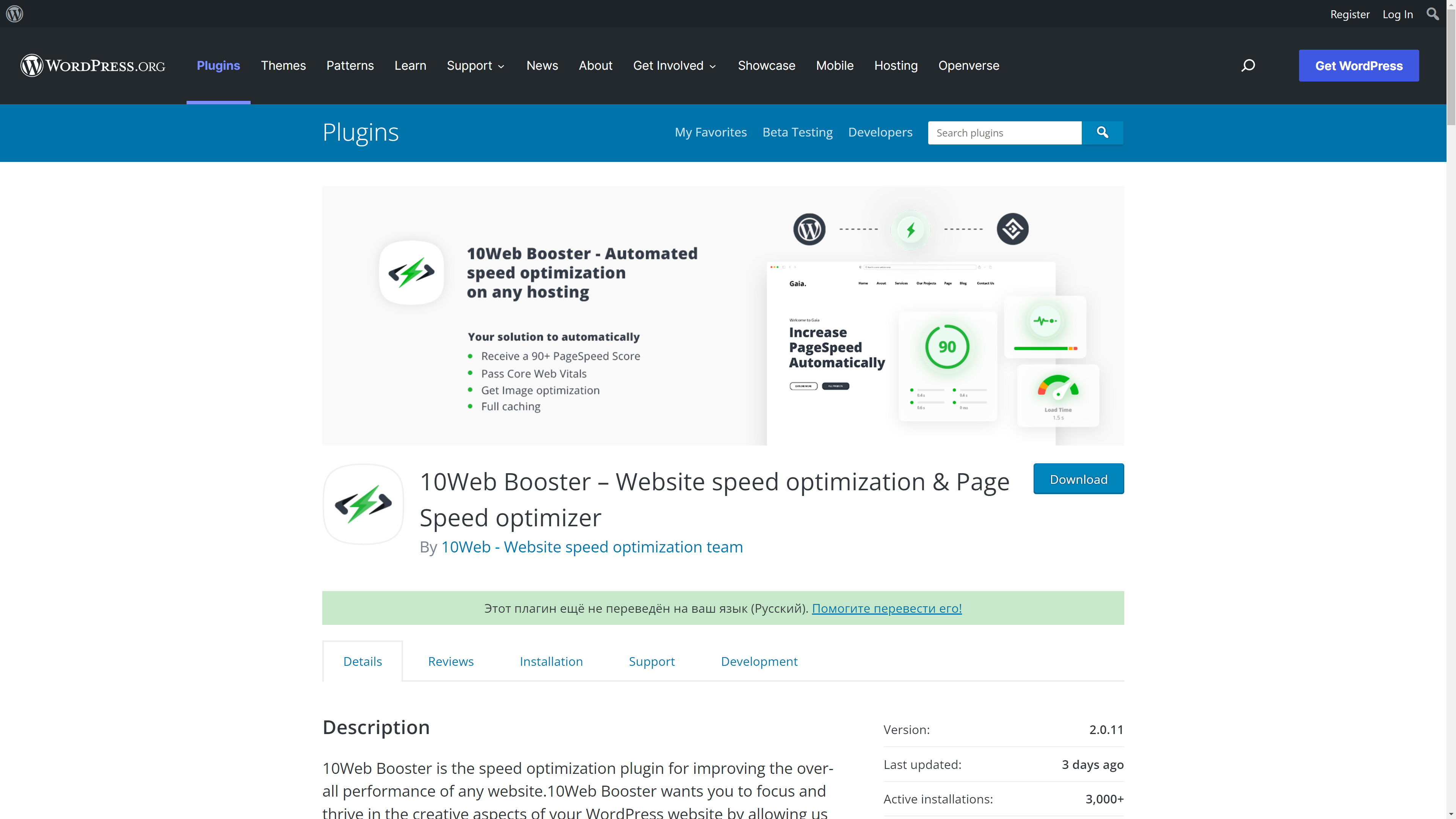 With the free plan you get:
Frontend optimization of 10 websites

Optimization of the site's homepage +5 pages per site

Image optimization of homepage +5 pages
To optimize both the frontend and backend of your websites, you can always upgrade to a 10Web Booster pro plan. In your dashboard, go to Subscriptions and click Buy Now or Migrate & Complete.
Booster pro plans
The 10Web Pro Website Booster plans come with 10Web paid platform plans. With the pro plans you get:
Full Frontend optimization of all pages of websites hosted elsewhere

Full Frontend and backend optimization of hosted websites

Full image optimization

Custom rules for individual pages
Depending on your plan, you will have a certain number of websites which you can either host or, only optimize the frontend of websites hosted elsewhere. For example, if you purchase our Premium plan, you can host 3 websites and optimize both front and back ends of all of your websites. However, you can also choose to host 2 websites and connect one website hosted elsewhere to optimize it's frontend only, using the 10Web Website Booster.
Note:
The number of websites are dependent on your plan type. For more information on this, please take a look at our pricing page.
With the 10Web paid platform plans you also get:
Google Cloud premium tier network

Automated managed hosting

1 Click Automatic Migration

Elastic scaling

Free SSL certificate

Malware removal program

DDoS brute force mitigation

NGINX FastCGI caching for hosted websites

Automated real time backups

User and Team management

SEO service

Staging environment

AI Builder & designer made templates

Live chat support

And more
Upgrading to Pro plans
If you are using the 10Web Website booster free plan and would like to upgrade:
From your main dashboard, click on a website to Manage it
Under Website Booster, click on Frontend or Hosting performance
Click Buy Now in the Frontend Optimizer page or Optimize on the Hosting performance page

Choose the platform plan that best suits your needs

Choose to pay monthly or annually

Quick tip:

Choosing to pay annually saves you 30%.

Fill in your payment information

Click

Proceed
You will see a success pop up as soon as your upgrade is applied. Click Proceed to start using the 10Web Website Booster Pro.
To optimize the backend of your website, click on Optimize or Optimize & Migrate.
Download the 10Web Manager then upload it into your WP admin and click Activate
Migration and optimization will start automatically.