Workspaces
The user and team management tool contains two types of workspaces for collaboration and productivity:
Own workspace:

You are the owner of this workspace and you can invite users and give them specific roles with varying permission levels.

Other workspaces:

Workspaces to which you are invited and where you have a specific role and permission level.
Quick tip:
You can test our user and team management feature for free!
Important:
Granting permissions to users allows you to safely manage and collaborate. As an added measure of security and for keeping your data safe, It is important that the same login credentials are not used by several individuals at the same time.
Own workspace
The Own workspace belongs only to the account holder and cannot be transferred. As the owner of the workspace, you have permission to everything concerning the account. You are the sole responsible for:
Account settings

: Personal information, login and security information, and the management of workspaces to which you have access.

User & team management

: The management of users of your workspace.

Website migration: Only the owner of a workspace has the permission to migrate a website to their 10Web account.
Besides the three above mentioned, administrative and developer permissions of your workspace can be granted to other users.
User roles
To collaborate with your team, you will need to invite them to your own workspace. There are 3 levels of permission or roles in the 10Web user and team management feature.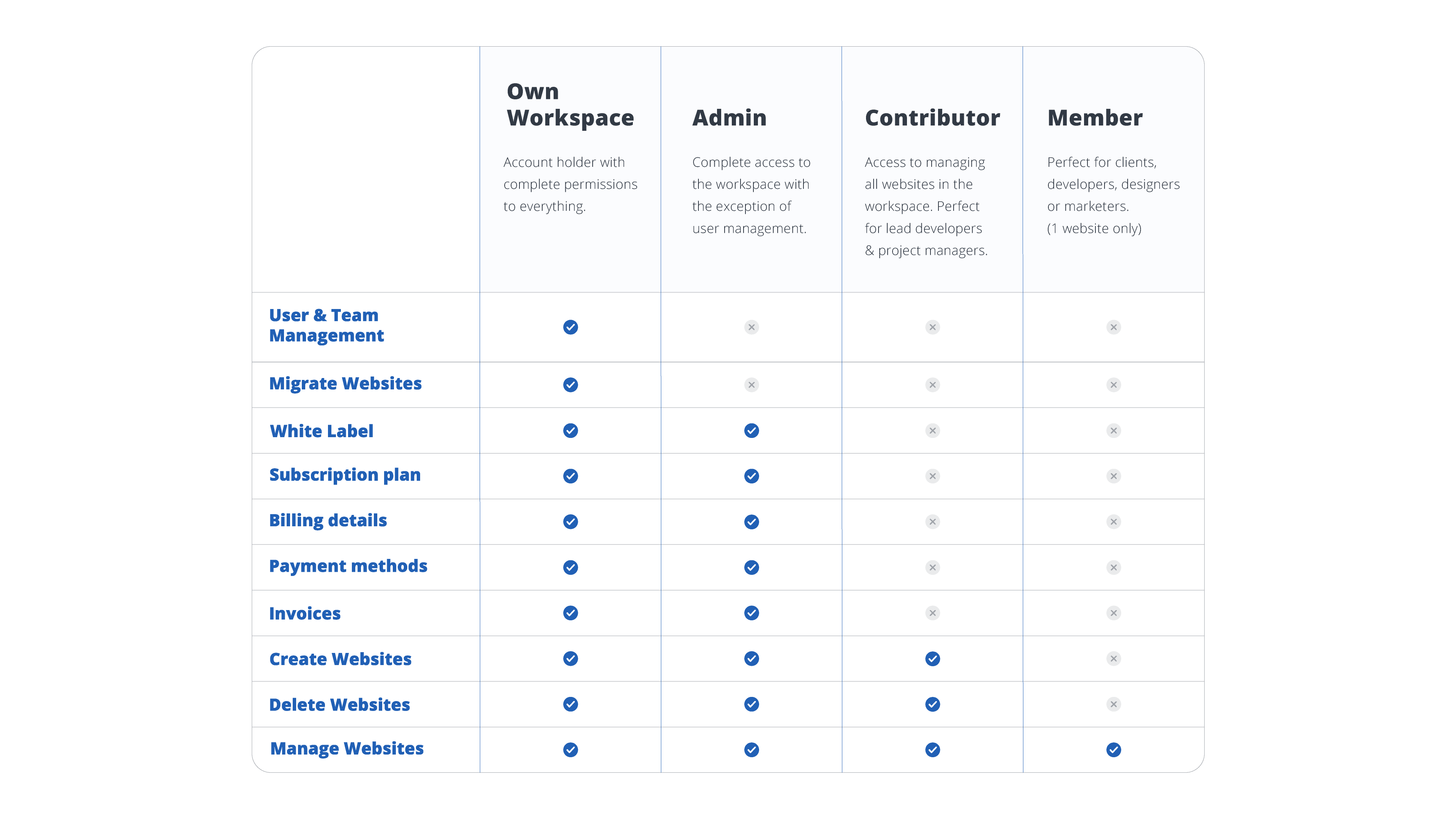 Admin
Admins have complete access to the workspace including access to adding and removing websites, website DNS, subscription plans, billing details, payment methods, invoices, and all administrative aspects of the workspace except user management.
Note:
Access to multisite will allow access to all of the subsites in the multisite network.
Contributor
Access to adding, removing and managing all websites in the workspace. No access to user management, white label & billing. Perfect for lead developers & project managers.
Member
Access only to a selected websites' live or staging environment. Perfect for clients, developers, designers or marketers.
Switching between workspaces
Workspaces to which you have permissions and your own workspace are located to the left of your dashboard with your own workspace at the top. Each workspace has its own tile.
Note:
Hovering on individual tiles will show you the complete title of the workspace and your role in it.
To switch between workspaces:
In the left column, find the workspace you want to switch to

Click on the corresponding tile